Protein pizza to help you hit your body goals 
Perfect for after the gym - and inspired by the fitness community's dietary wants and needs. We've come up with a low-calorie, low-carb, high protein pizza that will work as hard for you nutritionally as you do in the gym physically.
Low calorie pizza recipes from Lo-Dough are generally also low in carbs and high in fibre. This body goals pizza is packed with low-carb peppers and spinach, topped with spinach's best pal, ricotta and finally stacked up with high protein, lean chicken breast.
This one has totally got your back after a workout - and all for just 265 calories per pizza. 
Enjoy high protein pizzas?
Take a look at the salty seafood pizza recipe here. Or even better, take a look at the ultimate guide for low calorie pizza recipes with Lo-Dough.  
Ingredients
Serves 1
1 piece of Lo-Dough
2 tbsps (25-30g) of passata
120g of cooked chicken breast
50g of raw spinach
50g of finely sliced peppers
50g ricotta
Fresh basil
A pinch of chilli flakes (optional)
2-3 sprays of fry-light oil
Salt & pepper
What you'll need
This diet-friendly recipe is possible with:

Original Lo-Dough Bases
Regular price
from £3.49
Out of stock
Method
Preheat your oven to 250°C/475F/Gas 9.
Spray the fry-light into a pan, and fry off the spinach and peppers. Put to one side.
Put the Lo-Dough onto your cooking tray - smooth side up, and spoon the passata over it, making sure to spread it right to the edge.
Add the spinach and peppers followed by the chicken and then blob the ricotta around. Add a pinch of chilli flakes if you like a little spice.
Bake in your oven for 6-7 minutes, or until lightly golden. After removing, sprinkle with basil leaves for flavour and colour. Serve straight away.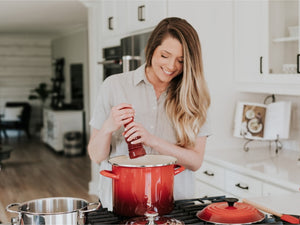 Hungry for more recipes?
Join over 200,000 subscribers in receiving new recipes, tips, offers and a whole lot more.