Low Calorie Pizza Recipes with Salty Seafood - Great Idea
For a quick and easy seafood delight, this recipe brings king prawns and salty anchovies into the spotlight with a fraction of the expected calories. In the same way that a humble macaroni cheese may wish to team up with a hint of truffle, anchovies (albeit an acquired taste) bring a certain savoury depth to the dish, giving it that extra boost.
Prawns, on the other hand, are low in fat (whilst simultaneously containing healthy 'good for you' fats). They're a great source of omega-3 fatty acids and make for a great healthy source of protein.
Coming in at only 250 calories (for the WHOLE pizza) and just 4g carbs, this is a sumptuous, salty gluten-free treat thats kind to both your taste buds and your waistline. Enjoy.
Not sure about seafood? Check out our low fat chorizo pizza 
Ingredients
Serves 1
30g mozzarella (torn)
30g reduced fat cheddar cheese
2 tbsp Italian passata
4 anchovies
6 large cooked king prawns
1 tsp capers
Frylight
Method
Preheat the oven to 180˚C.
Remove one piece of Lo-Dough from the packet, taking care to peel away the protective paper. Fry on a medium - high heat for approx one minute on each side.
Coat the base with good quality passata sauce.
Add the mozzarella, grated cheese, king prawns, capers and anchovies over the top.
Bake for 11-15 minutes until golden.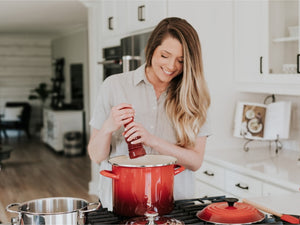 Hungry for more recipes?
Join over 200,000 subscribers in receiving new recipes, tips, offers and a whole lot more.