Two takeaways combined into one - but for a fraction of the calories! 
Two well-known takeaway companies combined forces recently and came up with a popcorn chicken pizza. It looked pretty delicious in a naughty kind of way, but that came at a price - over 2000 calories! 
Well - we thought we'd have a crack at a similar recipe - albeit Lo-Dough style. Guess what, We've smashed it out of the park - you get the same delicious, fully cheesed up flavour with crunchy chicken morsels - but at just 398 kcal!
Make this your fakeaway treat!
Ingredients
Serves 1
1 piece of Lo-Dough
1 portion of Lo-Dough Southern Style Coating
80g of chicken mince
1 egg white
75g of grated mozzarella
20g of sweetcorn
50g of gravy
Salt & pepper
A few sprays of oil
What you'll need
This diet-friendly recipe is possible with:

Lo-Dough Southern Style Coating
Regular price
£0.99
£4.59
Out of stock
Method
Preheat your oven to 220°C/Gas 7.
Lightly season the mince and form into small nuggets. Crumb using the Southern Style Coating and the egg white.
Bake the nuggets in the oven for approx 10-15 mins - or until lightly golden brown.
Spread the gravy on the smooth side of your Lo-Dough, spreading right to the edge. Keep a little back to drizzle over at the end. Then add your mozzarella, again, covering right to the edge.
Top with the chicken and the sweetcorn.
Bake in your oven for 7-10 minutes, or until golden and bubbling. Add a final drizzle of gravy and serve straight away.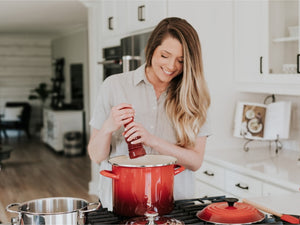 Hungry for more recipes?
Join over 200,000 subscribers in receiving new recipes, tips, offers and a whole lot more.