Low-Calorie & Low-Carb Southern 'Fried' Chicken - A Fakeaway Feast
Two succulent chicken legs coated in a spiced Lo-dough crumb and baked off in the oven gives you the ultimate low-calorie, ultra low-carb indulgent treat. It's easy to do and fun to share with friends and family - 1 piece of Lo-Dough will coat approx. 4 pieces of chicken. Thanks to the high fibre content of Lo-Dough, we find two pieces and sides will easily satisfy any appetite. 
Southern fried chicken just got super low-calorie thanks to the magic of Lo-Dough
An average takeaway/supermarket bought equivalent of southern fried chicken will come in at nearly twice the calories, masses more carbs (Lo-Dough's chicken contains just 1.1g of carbohydrate) and a great deal more fat. 
For our spice mix, we used a bag of Spicentice Southen Style Chicken spice blend and the result was fantastic - crunchy, succulent, flavoursome chicken.
 For another indulgent fakeaway, Check out our Meat Feast pizza recipe
Ingredients
Serves 2
1 piece of Lo-Dough, blitzed to crumbs
4 Chicken thighs - bone in, skin removed
1 small egg, beaten, for egg-wash
A pack of Spicentice Southen Style Chicken spice blend
16 sprays of oil
Salt & pepper
What you'll need
This diet-friendly recipe is possible with:

Original Lo-Dough Bases
Regular price
from £3.49
Out of stock
Method
Preheat your oven to 200C/392F/Gas mark 6.
Season the chicken with a good pinch or two of the Spicentice mix and some salt and pepper.
Add the seasoned chicken to a bowl with the beaten egg and ensure it is well coated.
In a separate bowl add all the remaining spice mix to the Lo-Dough crumbs. Add the egg-coated chicken to the crumbs and shake to coat well. Press the crumbs on with your hands for a firmer thicker crust.
Spray each piece with a few sprays of fry light and put on a tray and into the oven. Around halfway through the cooking time, give them a few more sprays to help crisp up.
After 45 minutes, take out of the oven and allow to rest on a cold plate/board for a couple of minutes - this will make the coating even crispier. Serve with sides of your choice. See picture for ideas.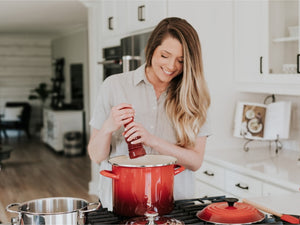 Hungry for more recipes?
Join over 200,000 subscribers in receiving new recipes, tips, offers and a whole lot more.