A 268 Calorie Deep Dish Pizza? The Whole Thing?! Only If You Make It With Lo-Dough...
... Well, with little help from Eatlean cheese that is! This Lo-Dough pie is filled with a deep, thick mix of vegetable ragu. Mushrooms, red peppers and courgettes are all coated in a thick tomatoey and garlicky sauce and sat on top of and underneath a layer of the incredible low fat, high protein and high taste Eatlean Protein Cheese. The result is a rich, gorgeous and moreish pizza pie - with all the aforementioned veg, tomato sauce and cheese, you can hardly go wrong! 
Of course, you can customise this one to your heart's content, swapping in and out any vegetables as you see fit. We have a meaty version too if you fancy something a little more of that ilk! 

Making A Low-Calorie, Low-Carb Pizza
By using Lo-Dough as your base, or indeed your pizza pie crust, you remove at least half of the calories usually associated with a regular pizza. At the same time, you are upping the fibre content by a minimum of 9g, just from the base alone (this pizza pie comes in at a whopping 14g of fibre!), so you will feel full and satiated for longer after eating it. 
Eatlean's cheese is the icing on the cake (well, the cheese on the pizza), being high protein and low fat, so all your macro needs are covered with this one. 
Not only that, but this pizza could easily feed two alongside a nutritious side salad and that would halve the carbs for those of you looking to keep your carbs low or your calories extra low on any given occasion. 
Lo-Dough gives you the flexibility to have pizza your way - whatever that 'way' might be - and if you like your pizzas deep-dish style, then this is the recipe for you!  
Oh yeah - for a pizza like this, we'll allow you to eat it with a knife and fork - things could get messy! 
Ingredients
Serves 1
1 piece of Lo-Dough
70g Eatlean Protein Cheese
100g of Courgettes, sliced into half moons
100g of mushrooms, sliced
Half a red pepper, finely sliced
Half an onion, finely sliced
1 clove of garlic, finely chopped
Falf a tin of chopped tomatoes
A teaspoon of chopped thyme
1 tablespoon of tomato puree
A few leaves of basil
10 spray oil
Salt & pepper
What you'll need
This diet-friendly recipe is possible with:

Original Lo-Dough Bases
Regular price
from £3.49
Out of stock
Method
Preheat your oven to 180°C/356F/Gas 6.
In a saucepan, gently fry off your onions and garlic in a little spray oil. Once softened, add other sliced veg and garlic and cook through (saving a few mushroom slices back). After a minute, add the tomato puree, the tinned tomatoes and the thyme. Allow to cook down for around 10 minutes until thick and rich. Take off the heat.
Roll out your Lo-Dough until thin, (do this between some of the silicone paper found in the packet).
Place the Lo-Dough into a 7inch tin. Add half the cheese, then top with the veg and tomato ragu. Top with the remaining cheese and mushrooms. Cook for 20 minutes.
Take out, add a few torn basil leaves and serve hot!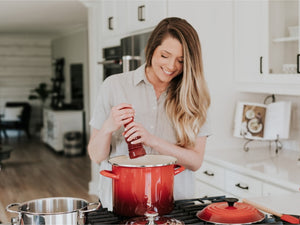 Hungry for more recipes?
Join over 200,000 subscribers in receiving new recipes, tips, offers and a whole lot more.