Veggie Steak Heaven - Made Low-Carb With Our Southern Style Coating
Vegetarians need not miss out on our delicious Southern Style Coating. The cauliflower steak found some notoriety back in 2018 and we are bringing it back once again in breaded form.  
By baking the cauliflower in the crumb, all the goodness and nutritional value of the cauliflower are retained, rather than boiled away. The crumb adds all the seasoning you'll need, plus a fair whack of flavour and spice. 
We served ours with a cauliflower puree (cauliflower, milk, seasoning - boiled and liquidised) and a watercress salad for a perfect filling and balanced low carb/high-fibre meal.
Ingredients
Serves 1
Lo-Dough Southern Style Coating (enough to double coat one piece of cauliflower)
1 large slice through a cauliflower (approx 150g)
1 egg, beaten
What you'll need
This diet-friendly recipe is possible with:

Lo-Dough Southern Style Coating
Regular price
£0.99
£4.59
Out of stock
Method
Preheat your oven to 220C.
You will need two dishes. Add some of the coating (enough to twice-coat however many cauliflower steaks you are making) to one and beat an egg in the other.
Dip your steak in the egg and then drop into the crumb. Shake until completely covered. Repeat the egg and crumb process a second time to create a thick coating.
Place on an oven tray, spray with a little oil and bake at 220C for approx 20-25 mins.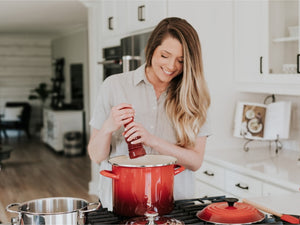 Hungry for more recipes?
Join over 200,000 subscribers in receiving new recipes, tips, offers and a whole lot more.