Make Your Salad Sing With Lo-Dough Southern Style Chicken!
We make no bones about it - here at Lo-Dough, we LOVE salads. We don't just eat pizza... we like to have plenty of salads and greens too (ok - usually on the side of a pizza). 
Well, since we released our Southern Style Coating, we've also been seeing salads take centre stage. By coating up some meat, some veg or even some cheese, you can have delicious, hot crunchy morsels of flavour-packed loveliness, running right through your salad.
This one is a low-cal and low-carb delight: Lo-Dough Southern Style Chicken with mixed salad and a beautiful, caesar-style dressing.
Ingredients
Serves 1
For the chicken
Lo-Dough Southern Style Coating - 1 portion
100g of chicken mini fillets (4-5)
1 egg, beaten
For the salad
40g of mixed leaves
25g of radishes, sliced
4 cherry tomatoes
15g of parmesan shavings
1-2 tablespoons of caesar dressing
What you'll need
This diet-friendly recipe is possible with:

Lo-Dough Southern Style Coating
Regular price
£0.99
£4.59
Out of stock
Method
Make you chicken up according to the packet instructions (egg and coat the chicken twice). Spray with a little oil. Place in the oven at 220°C for around 20-30 minutes.
While the chicken cooks, slice and make up your salad.
Once cooked, slice each piece of the chicken in half, add to the salad and dress with the parmesan shavings and caesar dressing. Serve immediately.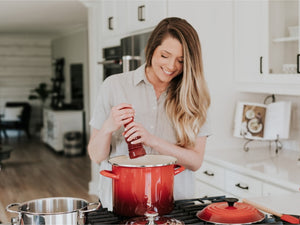 Hungry for more recipes?
Join over 200,000 subscribers in receiving new recipes, tips, offers and a whole lot more.