Low carb chips — healthy and delicious oven-baked chips. The perfect side for dieters of all stripes
For low-carb dieters, their best root vegetable friend is the celeriac. The celeriac chip is one of many forms this amazing root-veg can take. Steamed (or boiled), then oven baked in olive oil (or fry light) in this case with peri-peri seasoning, these are a much less calorific (and dramatically less carb-heavy) accompaniment than regular chips or sweet potato fries and delicious in their own right. They will crisp up even more if given a little dusting of cornflour, but this can be left off if counting carbs super strictly.
Celeriac - The Amazing Low-Carb Vegetable
Massively underrated, the celeriac is an incredibly versatile root vegetable, full of delicious, savoury, celery flavour. Though from a similar family of plants, celeriac is not the root of a standard celery plant - a common misconception. It makes incredible soups, purees, chips or roasties and can even be eaten raw (it makes a great addition to a slaw!). At just under 10 carbs per 100g, it really is a low-carbers (or calorie counters) best friend when looking for a delicious side dish.
Ingredients
Serves 4
1 celeriac, peeled and cut into chips
2 teaspoons of peri peri seasoning
Salt & pepper
10 sprays of oil
Method
Preheat your oven to 200C/392F/Gas mark 6.
Blanch your celeriac chips in a pan of salted boiling water for 4 minutes.
Put all the ingredients in a baking tray and spray with the oil. Shake and turn over in the oil until everything is well coated.
Bake in the over for 30-40 mins or so, or until crispy, turning and moving halfway through. Serve hot.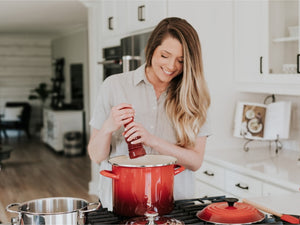 Hungry for more recipes?
Join over 200,000 subscribers in receiving new recipes, tips, offers and a whole lot more.