A Side Salad 'Slaw' That's Surprisingly Low In Fat
This lightly curried slaw is a flavour hit at Lo-Dough HQ. It will sit with meats, fish, kebabs, burgers - you name it. Perfect for a wrap (perhaps with sliced chicken or halloumi) or on the side of a savoury fish cake/fritter - you should definitely look at making your own slaw instead of buying the usual cheap mayo-drenched shop-bought stuff. Our twist on regular slaw here is a light curry seasoning. The flavour profile it brings is comparable to the dressing you would find coronation chicken, albeit without any sweet fruit additions or mango chutney. 
It just works - the crunch of the raw veg, the tang of the dressing and the mild heat of the curry and mustard will perk up any plate.  
Keto-Friendly Salad
This fantastic side can be tweaked to suit any diet. We've gone with a low-fat slimming option, by swapping out the usual slaw staple - mayonnaise, for fat-free yoghurt. But if you wanted slightly fewer carbs in the dish and an increased amount of fat (for keto) just switch back to mayonnaise. Made this way, a portion will come in at 5 carbs. 
We can't recommend this trying this one enough - it's ready to go in 5 minutes, so you've got no excuse! 
Ingredients
Serves 8
For the salad
200g of red cabbage, finely shredded
200g of white cabbage, finely shredded
Half a medium white onion, finely sliced
1 medium carrots, in fine matchsticks
For the dressing
60g of fat-free yoghurt
Two teaspoons of curry powder
A teaspoon of cider/white wine vinegar
A teaspoon of dijon mustard
Salt & pepper
Method
Mix all the dressing ingredients in a jug/bowl until well combined.
Arrange the salad ingredients in a bowl. Add the dressing and combine thoroughly.
Serve immediately (or store in the fridge for up to three days).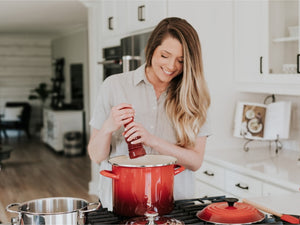 Hungry for more recipes?
Join over 200,000 subscribers in receiving new recipes, tips, offers and a whole lot more.