Low-carb diet followers are gonna love these cheesy breaded chicken tenders!
Chicken nugget/dippers CAN be made healthy and this recipe is packed with flavour, easy to prepare and completely irresistible! We've combined our Lo-Dough Southern Style Crumb with some crushed down 'Cheesies' - a great popped cheese snack product. If you don't have these to hand, substitute with grated parmesan or cheddar. The combination is just perfect and will coat slices of chicken breast or even thighs, mushrooms or anything you can think of really.

You've gotta give this one a go! 
Ingredients
Serves 1
One portion (approx 10-15g) of Lo-Dough Southern Style Coating
A 20g handful of cheesies (or cheese), crushed (or grated)
1 skinless chicken breast, sliced into lengths (goujons)
1 small egg, beaten
Spray oil
What you'll need
This diet-friendly recipe is possible with:

Lo-Dough Southern Style Coating
Regular price
£0.99
£4.59
Out of stock
Method
Preheat your oven to 220C.
Put the beaten egg in one bowl and the coating in another. Dip your chicken strips in the egg and then drop into the crumb. Shake until completely covered.
Place on an oven tray, spray with a little oil and bake at 220C for approx. 20 mins or until the chicken is cooked through.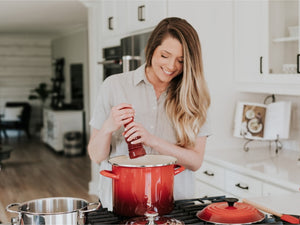 Hungry for more recipes?
Join over 200,000 subscribers in receiving new recipes, tips, offers and a whole lot more.