This is one is all about the flavour - and is incredibly low-carb to boot!
There is very little that you can add chorizo to that it won't improve and this take on a Kiev is a great case in point. While the chorizo butter will add a fair bit of fat and calories, this is balanced out by our incredible, low-carb, designed-to-be-baked coating. The flavour is incredible, the juice of the chicken is locked in and it's pretty much a perfect addition to any plate! Give this one a whirl! 
Ingredients
Serves 1
Lo-Dough Southern Style Coating (enough to double coat one piece of chicken)
1 large skinless chicken breast
1 egg white, beaten
Spray oil
Chorizo butter
7g of butter, softened
8g of chorizo, diced small
What you'll need
This diet-friendly recipe is possible with:

Lo-Dough Southern Style Coating
Regular price
£0.99
£4.59
Out of stock
Method
Preheat your oven to 220C.
Mix all the chorizo butter ingredients together. To avoid food waste and get ahead on prep, you can make more than is needed and store it in the freezer, then take a 15g portion whenever required.
Butterfly open your chicken and flatten the fillet to prepare your Kiev. Search for 'Kiev' on youtube for a video tutorial of the technique.
Dip your stuffed chicken in the egg and then drop into the crumb. Shake until completely covered. Repeat the egg and crumb process a second time to create a thick coating.
Place on an oven tray, spray with a little oil and bake at 220C for approx. 25-30 mins. Ensure the chicken is fully cooked through before serving.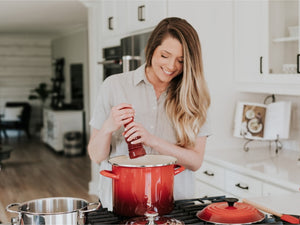 Hungry for more recipes?
Join over 200,000 subscribers in receiving new recipes, tips, offers and a whole lot more.