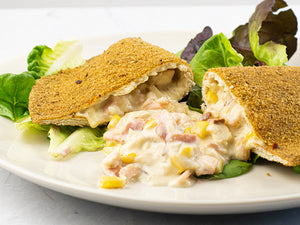 gluten-free
Low-Carb Crispy Pancake (Chicken, Bacon & Sweetcorn)
Share
Facebook
Twitter
WhatsApp
Email
Here's a taste of the 80s... but made low-carb and low-calorie with Lo-Dough!
We love crispy pancake here at Lo-Dough, and this chicken, bacon and sweetcorn version is another classic flavour combo from days gone by. 

Its super quick and simple to make and packed with flavour, but thanks to the combination of Lo-Dough products, incredibly low-calorie and low-carb. 
Ingredients
Serves 1
1 Lo-Dough base
1 portion of Lo-Dough Southern Style Coating
1 egg, beaten
For the filling
30g of cooked chicken, chopped
30g cooked smoked bacon, chopped
10g tinned or frozen sweetcorn
2 tablespoons of creme fraiche
Salt & pepper
To serve
A little more of the chicken bacon and sweetcorn mix if desired (just heat any excess in a pan on the stove)
What you'll need
This diet-friendly recipe is possible with:

Lo-Dough Southern Style Coating
Regular price
£0.99
£4.59
Out of stock
Method
Preheat your oven to 200°C/ 400°F/Gas 6.
Add your chicken, bacon, sweetcorn, creme fraiche and season to a pan on the stove and gently heat through for 10 minutes to allow the flavours to mix and mingle. Allow to cool briefly.
Add 80g of this mix to the middle of your Lo-Dough. Try not to get too greedy or it will be hard to seal.
Wet the edge of your Lo-Dough with a little water and fold the over to form your sealed pancake. Apply a fair amount of pressure to ensure it seals.
Add the egg to one large bowl/tray and the crumb to another. Carefully coat the folded pancake in egg and then crumb.
Generously spray with 1 cal spray and bake in your oven for approx 15-20 minutes, or until golden. Serve with a another big spoon of your filling mix if desired and maybe just a simple salad.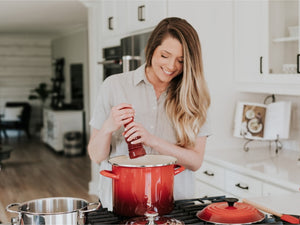 Hungry for more recipes?
Join over 200,000 subscribers in receiving new recipes, tips, offers and a whole lot more.