Lo-Dough as a Low-Calorie and Low-Carb Stew Topping.
Finding a nice replacement for mash on top of a shepherds/cottage pie isn't easy if you are watching calories and carbs, but we've come up with something that we think fits the bill very nicely: The Lo-Dough Cheesy Dumpling Topping. Think more towards dumpling/cobbler than mash and you'll be thinking along the right lines.
This works on top of any stew - not just a mince based mix. It makes a portion for 2 people, so just don't use your biggest casserole dish. 
Low in calories and carbs and as ever, high in taste and a satisfying and filling alternative to mashed potato, breadcrumbs and other dumpling style doughs. 
We still love Lo-Dough as pastry on top of a pie, so click the link for a look at some more recipes.
Ingredients
Serves 2
2 piece of Lo-Dough, whizzed to fine crumbs in a processor
1 large egg yolk
40g of grated mature cheddar
60ml of semi skimmed milk
Salt & pepper to taste
What you'll need
This diet-friendly recipe is possible with:

Original Lo-Dough Bases
Regular price
from £3.49
Out of stock
Method
In a mixing bowl, combine the Lo Dough crumbs, the cheese (minus a few sprinkles for later), the egg yolk and the milk. Mix well. If the paste is too thick, add a dash more milk. It should be spoonable, but not sloppy in consistency.
Take your cooled stew mix and fill 1cm from the top in a 16x13cm oven proof dish - or something around that size. It's a portion for too, so don't go too big on the dish. Smooth the mix over the top and use a fork to create a textured finish.
Sprinkle the remaining cheese on top and cook in a preheated, moderate oven (approx. 180C/356F/Gas 4) for between 30 and 40 minutes, or until your stew is cooked through and the topping is golden and delicious. Serve with side vegetables of your choice.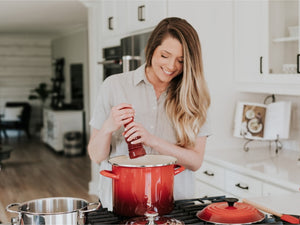 Hungry for more recipes?
Join over 200,000 subscribers in receiving new recipes, tips, offers and a whole lot more.