Keep the carbs & calories down by making fish & chips with Lo-Dough 
This quintessentially British dish actually has its roots far further afield. Jewish immigrants from Spain and Portugal first brought deep-fried, battered fish over in the 16th century. In the same century, Sir Walter Raleigh was introducing the Potato to Ireland, the crop originally coming from Peru. As such, fish and chips, though right at the heart of Great British culture, is, in fact, an international dish! 
Here's something else that might surprise you - It is possible to make a beautiful fish supper with dramatically reduced carbs - and thus calories. Lo-Dough contains only 2.2 carbs per pieces and your fish will only need approx. half a blitzed piece to be fully coated. The fish is lightly fried and then baked in a very hot oven until crispy on the outside and just cooked through in the middle. As well as keeping the carbs down from a traditional batter, this cooking method is significantly lower in fat! 
Low-carb chips
For the chips, we have gone with the low-carbers root vegetable friend - the celeriac. Steamed, then oven baked in olive oil, with garlic and herbs, these are a much healthier accompaniment to your fish and completely delicious in their own right. Of course, the perfect accompaniment to your fish and chips is tartare sauce and as luck would have it, this is already a low-carb condiment. 
If you love fish and chips but have been avoiding it for dietary reasons, then avoid no more - with Lo-Dough, your favourite foods are back on the menu.
Ingredients
Serves 1
1 piece of Lo-Dough, blitzed to crumbs (this will coat two pieces of fish)
1 piece of cod fillet (approx. 180g)
1 small egg, beaten, for egg-wash
2 teaspoons of chopped fresh thyme
2 tablespoons of olive oil
Half a celeriac, cut into chips
2-3 cloves of garlic, lightly crushed in their skins
Salt & pepper
What you'll need
This diet-friendly recipe is possible with:

Original Lo-Dough Bases
Regular price
from £3.49
Out of stock
Method
Preheat your oven to 200C/392F/Gas mark 6.
Boil or steam your celeriac chips for 5-10 minutes until part cooked. Drain and add to a tray, with a tablespoon of oil, half the thyme and the garlic. Mix well to coat the celeriac.
Place the chips in the oven and cook for approx 30-40 minutes.
Add the fish to a bowl with the beaten egg and ensure it is well coated.
Put the Lo-Dough crumbs in another bowl. Add the egg-coated fish to the crumbs and shake to coat well. Press the crumbs on with your hands for a firmer thicker crust.
Add the oil to a pan and fry the fish until golden and crispy on both sides. Transfer to the oven with the chips for the final 7 minutes of cooking, to cook the fish through.
Once the fish is cooked through and the chips are ready, transfer to a plate and serve. Accompany with anything of your choosing - tartare sauce, mushy peas, ketchup... whatever you like.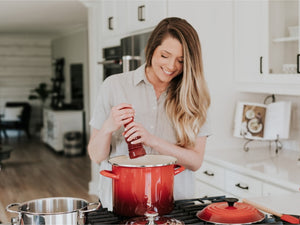 Hungry for more recipes?
Join over 200,000 subscribers in receiving new recipes, tips, offers and a whole lot more.