A family fish supper with a low-carb bread crumb topping. Piscine perfection!
For the ultimate low-carb fish pie, you've gotta steer clear of mash and pastry. Delicious though they are; they are both laden with carbs—fat and calories too. 
Here, we've developed an incredible alternative topping, packed with flavour, fibre and texture, using our Southern Style Crumb and a handful of oatmeal.  
The recipe is simple enough and can be scaled up to feed as many as you want; we've gone for a four portion serving.
If you like fish pies, then you've got to try this one - trust us - ours is completely delicious and perfectly healthy to boot.
Ingredients
Serves 4
For the topping
60g (just under half a bag) of Lo-Dough Southern Style Coating
A handful of oats
20g of parmesan, finely grated
For the pie
1 salmon fillet
1 smoked haddock fillet
100g king prawns
80g baby spinach
50g frozen peas
250ml half fat creme fraiche
100ml semi skimmed milk
Seasoning
What you'll need
This diet-friendly recipe is possible with:

Lo-Dough Southern Style Coating
Regular price
£0.99
£4.59
Out of stock
Method
Gently poach the salmon and haddock in the the milk over a low heat. Take the fish out and flake when cool, removing any skin/bones. Retain the milk.
Add the creme fraiche, the peas and half the spinach to the milk and incorporate until the spinach is wilted. Season.
Arrange the prawns and the flaked fish in a suitably sized baking dish and cover with the sauce. Add a layer of spinach with what you have remaining, then add the topping ingredients and spray with low-cal oil. Bake in a hot oven (200C) for 20 minutes or until golden brown and bubbling.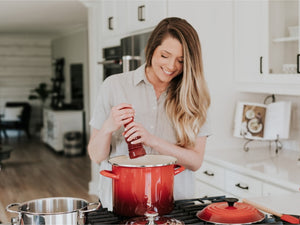 Hungry for more recipes?
Join over 200,000 subscribers in receiving new recipes, tips, offers and a whole lot more.