This Low-Carb Chicken Is The Perfect Fakeaway Fix
The Lo-Dough Southern-Style Coating is the perfect way to create a low-calorie, low-carb and high-fibre version of everyone's Friday favourite - Southern Fried Chicken.
With the Lo-Dough crumb, there is no frying needed. The crumb has been designed to be baked. It's quick, it's easy and no matter what diet you are following, this dish will fit the bill. 
You can use whatever cut of chicken you like.  Breast, thighs/legs (on or off the bone), wings etc. It all works perfectly (no additional seasoning required) and so you can go with your favourite or whatever best suits your diet. Your chicken will be in the oven in 5 minutes and ready to eat around 25-30 minutes after that (bone-in meat may take longer - always check the chicken is cooked through)! 
Ingredients
Serves 1
Lo-Dough Southern Style Coating (enough to double coat one piece of chicken)
1 large skinless chicken breast (or two skinless/boneless thighs)
1 egg, beaten
What you'll need
This diet-friendly recipe is possible with:

Lo-Dough Southern Style Coating
Regular price
£0.99
£4.59
Out of stock
Method
Preheat your oven to 220C.
You will need two dishes. Add some of the coating (enough to twice-coat however many pieces of chicken you are making) to one and beat an egg/egg white in the other.
Dip your chicken in the egg and then drop into the crumb. Shake until completely covered. Repeat the egg and crumb process a second time to create a thick coating.
Place on an oven tray, spray with a little oil and bake at 220C for approx. 25-30 mins. Ensure the chicken is fully cooked through before serving.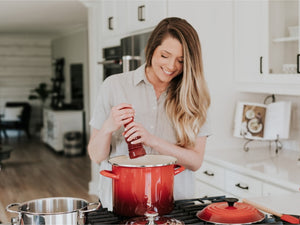 Hungry for more recipes?
Join over 200,000 subscribers in receiving new recipes, tips, offers and a whole lot more.