The ultimate low-cal, high taste turkey burger experience.
Use some Southern Style Coating to coat up some turkey mince (with added diced chorizo) and serve with your favourite burger accompaniments in a Lo-Dough pocket! 
Delicious, healthy and full of flavour - this is one you've just got to try!
Don't forget to keep your trimmings and turn them into crumbs for cakes, coatings and more! 
We have also egged and breaded some onions - because why not! 
Ingredients
Serves 1
1 piece of Lo-Dough, trimmed to a burger pocket (see picture)
1 portion of Lo-Dough Southern Style Coating
85g of turkey breast mince (lean turkey mince)
15g of finely chopped chorizo
1 egg, beaten
1 clove of garlic, crushed
A few leaves of lettuce
1-2 rings of red onion
1 large gherkin, finely sliced
A blob of yellow mustard
4 sprays of fry-light
Salt & pepper
What you'll need
This diet-friendly recipe is possible with:

Lo-Dough Southern Style Coating
Regular price
£0.99
£4.59
Out of stock
Method
Mix the mince, chorizo, a couple of teaspoons of the egg and the garlic in a bowl. Season and form into a burger patty.
Use the remaining egg and Southern Style Coating to coat the burger (see packet for detailed instructions). Bake in a hot oven (220°C) for approx 20 minutes, or until cooked through and golden brown on the outside.
Once cooked, arrange your burger, salad and condiments on the Lo-Dough pocket and serve (with the crispy onions if desired!).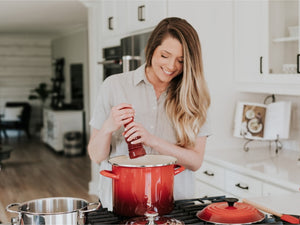 Hungry for more recipes?
Join over 200,000 subscribers in receiving new recipes, tips, offers and a whole lot more.