Comforting Family-Style Food. Incredible Flavour & Diet-Friendly
Use the Lo-Dough Southern Style Coating as a crumb to top gratins of all shapes and sizes. 
For this one we've for a cheesy, garlicky and very satisfying low-carb vegetable gratin. Rich, belly-filling and perfect as either a side or a vegetarian main, this dish comes in at 229 kcal, 9.5g of carbs and a whopping 8g of fibre per portion.
The recipe yields 6 portions, so will feed a family if desired (or give plenty of leftovers - this will freeze brilliantly once cooked) and if there are any diet-food sceptics in the family, just don't tell them - we promise you they won't know the difference! 
Alongside a chicken breast or a piece of white fish, this would make for a very slimming-friendly meal for less than 450 kcal. 
For someone looking to up the fats for a low-carb diet, look for a fattier cut of meat like rump/rib-eye steak or a pork chop.
But for us, this works as a perfect vegetarian meal in itself - just served alongside a lightly dressed green salad or wilted greens. Perfection.
Ingredients
Serves 6
For the topping
60g (just under half a bag) of Lo-Dough Southern Style Coating
80g of mature cheddar, grated
50g of parmesan, grated
For the creamy vegetables
200g of cauliflower, broken into florets
200g of broccoli, broken into florets
70g cavolo nero (or kale/cabbage), shredded
1 onion, finely sliced
1 clove of garlic, finely chopped
200g of creme fraiche
1 veggie stockpot/cube
A heaped teaspoon of cornflour, mixed with a little water
Mixed herbs (we went with thyme and parsley)
Salt & pepper
A few sprays of oil
What you'll need
This diet-friendly recipe is possible with:

Lo-Dough Southern Style Coating
Regular price
£0.99
£4.59
Out of stock
Method
Preheat your oven to 200C.
Add your cauliflower florets to a pan with enough boiling water to just cover them. Add the stock pot and an extra pinch of salt and cook for 3-4 minutes. Drain, but save the water.
Gently fry the onion and garlic until softened than add the vegetable water you retained, the creme fraiche and the cornflour. Bring to the boil to thicken. Add all the veg (the cooked cauliflower, the raw broccoli and cavolo nero) and herbs to the sauce and stir until coated. Check for seasoning and transfer to a baking dish.
In a separate bowl, mix the cheeses and the crumb together. Scatter the cheesy crumb over and bake for approx. 30 minutes until the top is golden and the veg and sauce a bubbling underneath. Serve.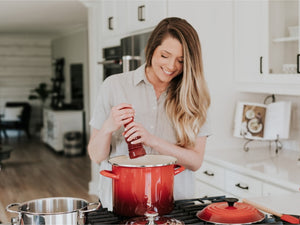 Hungry for more recipes?
Join over 200,000 subscribers in receiving new recipes, tips, offers and a whole lot more.