Make Someone Feel Special With These Low-Carb and Low-Calorie Brownie Hearts!
Here's a little bit of fun... treat yourself, or someone else to a love heart!
Really, this is just an exercise in dressing your brownies to look a little bit more special. You can cut out any shapes you like, but we've gone with hearts (approx. the same size as a standard brownie). You'll have offcuts from doing this - keep them and serve them with some delicious low cal ice cream as either a sundae or a brownie bowl. 
Low calorie brownie toppings
We tend to use cream cheese and erythritol (and colouring if desired) as our go-to icing of choice. Any sprinkles will be adding sugar unless sourced from an online specialist selling sweetened sprinkles - regular sprinkles will add around 5g carbs per teaspoon. 
For a firmer frosting, you'd need to add a little butter, but we have skipped the butter and kept our icing loose - perfect for a drizzle. Either cover all over or go with a little drizzled pattern. 
Otherwise, the other option you'll see is dark chocolate. To keep calories down for this, just add a few stripes - not a full covering.
(The macros below are for the pink cream cheese and erythritol covered brownie - the most calorific of the three)
Ingredients
Serves 7
1 pack of Lo-Dough Brownie Mix
90g cream cheese
90g of powdered erythritol
A few drops of pink/red colouring
Sprinkles to decorate if desired
What you'll need
This diet-friendly recipe is possible with:
Lo-Dough Brownie Mix
Regular price
£5.59
Out of stock
Method
Make the Lo-Dough Brownie Mix as per the packet instructions.
Add the mix to a lined 7-inch tin, and bake for 25 minutes at 190C. Once baked, allow to cool.
While the cake bakes, make the cream cheese icing by beating the cream cheese, erythritol and colouring.
Once cool, cut out your brownies hearts with a cutter, roughly the size of a standard brownie.
Add the icing on top and then the sprinkles if using.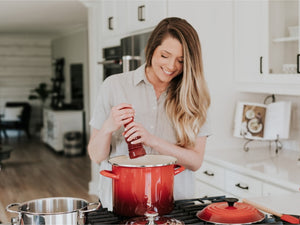 Hungry for more recipes?
Join over 200,000 subscribers in receiving new recipes, tips, offers and a whole lot more.