Lo-Dough as your low carb bread alternative means delicious toastie freedom 
Sometimes the deli-counter can overwhelm us all with too much choice, so what better than just picking a bit of everything you like and putting it on one sandwich.  
The Muffaletta is a New Orleans classic, first introduced by Sicilian immigrants to America in the early 20th century. It is layered up with any combination of your favourite deli ingredients - usually meat (we went with juicy chicken breast), cheese and tapenade (a chopped olive paste). We have added a couple of deli extras to ours - pesto, sun dried tomatoes, and some salad. You may also consider artichokes, anchovies, hams, salamis, black olives and so on.
Thankfully, with Lo-Dough, you can pretty much build up layers of flavour in any combination you want and still know the calorie count won't be astronomical. 
It is a total flavour explosion and though getting all the deli ingredients is an expense initially, they should supply you ingredients for several more meals. Believe us, once you've tried the mighty Muffaleta, you'll be wanting to make another one.  
What is a Lo-Dough bread alternative?
Not long arrived on the market (2017), Lo-Dough is an up and coming game changer in the slimming and fitness worlds. Not only can you replace your bread and pastry with something which is virtually carb free, you can have toasties, pizzas, wraps, and even desserts for a fraction of the calories you would normally have. 
It's also very high in fibre, which is a godsend for those who are on a low carb diet. So many of us, low carb or not, don't get enough fibre. Lo-Dough is the way to do it with ease.
 Low carb toasties - let's go!
There aren't too many people on the planet who are anti-toastie. The freedom to still indulge without consuming the calories and carbs is a dream come true. And that right there is the magic of Lo-Dough.
For more inspiration, take a look at this delicious low carb griiled cheese 
Ingredients
1 piece of Lo-Dough
60g of roast chicken slices
70g of light mozzarella, thinly sliced and patted dry with kitchen roll
40g of green olives, finely chopped
30g of sundried tomatoes (3 or 4)
100g of fresh beef tomato, sliced
A teaspoon of pesto
A few capers
A few basil leaves
A couple of lettuce leaves
6 sprays of fry light
What you'll need
This diet-friendly recipe is possible with:

Original Lo-Dough Bases
Regular price
from £3.49
Out of stock
Method
Cut the Lo-Dough into two halves.
Layer up all the other ingredients on top of the bottom half in any order you like. Try to keep the layers distinct by colour as the final sandwich will look more impressive when sliced. Spread the pesto across the lid of the bread and then put on top and apply a little pressure to compact the ingredients.
Place the Lo-Dough into a spray-oiled sandwich press, or onto a spray-oiled griddle. If using the griddle you will have to very carefully turn the sandwich halfway through the cooking time and continue to apply pressure as it cooks.
Carefully remove from the sandwich press or griddle and place onto a chopping board. Slice in half to reveal a neat cross section of all the layers you have added. Serve alongside salad if desired.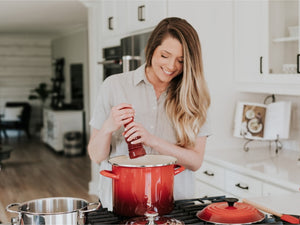 Hungry for more recipes?
Join over 200,000 subscribers in receiving new recipes, tips, offers and a whole lot more.