This is too good to be true. Find decadence and delight in this low-calorie chicken recipe!
Taking a classic Chicken Kiev technique and playing around with the stuffing inside is one of the joys of making your own. Traditional garlic/parsley butter can be replaced with... well, just about anything you like. By coating with Lo-Dough's Southern Style Coating you are reducing the carbs, upping the fibre and using a product designed to be baked, rather than the traditional fried recipe, saving on fat and grease too. 
Trust us... you're gonna love this one: oozy soft cheese, garlicky and tomatoey red pesto - its an absolute flavour bomb!
Ingredients
Serves 1
Lo-Dough Southern Style Coating (enough to double coat one piece of chicken)
1 large skinless chicken breast
1 egg, beaten
Spray oil
20g of half fat soft cheese
A teaspoon of red pesto
What you'll need
This diet-friendly recipe is possible with:

Lo-Dough Southern Style Coating
Regular price
£0.99
£4.59
Out of stock
Method
Preheat your oven to 220C.
Mix the soft cheese and pesto together.
Butterfly open your chicken and flatten the fillet to prepare your Kiev. Search for 'Kiev' on youtube for a video tutorial of the technique. Stuff with the cheese and pesto then close up the butterflied chicken breast with the fillet.
Dip your stuffed chicken in the egg and then drop into the crumb. Shake until completely covered. Repeat the egg and crumb process a second time to create a thick coating.
Place on an oven tray, spray with a little oil and bake at 220C for approx. 25-30 mins. Ensure the chicken is fully cooked through before serving.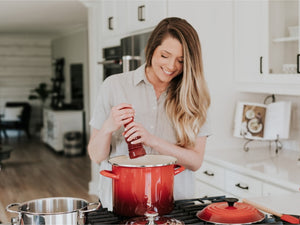 Hungry for more recipes?
Join over 200,000 subscribers in receiving new recipes, tips, offers and a whole lot more.