Low fat pork and egg pie - perfect for slimming and weight loss.
Snacking, grazing, or simply lunching is sometimes a challenge when you are following a specific diet or meal plan. It's often difficult to find something healthy, filling and tasty in your fridge that you can immediately eat.
Whatever drives you to want to open the fridge and stare for inspiration, this pork and egg roll is perfect. It's great as a snack or meal for the family too. All too often we gaze at that Pork and Egg Pie in the supermarket and it looks so good, but also fatty and high in carbs.
This pie is none of these - low in carbs, lower in fat, and yolk in every slice. What more could you ask for?
Looking for more ideas? Check out the smoked ham, gruyere & mushroom pancake recipe 
Ingredients
Serves 10
4 pieces of Lo-Dough
6 large eggs
500g 5% fat Pork mince
200g unsmoked bacon medallions
½ tsp fennel seeds
1 tbsp chopped parsley
1 tbsp chopped taragon
½ tsp sweet paprika
1 tsp salt
Fresh ground black pepper
What you'll need
This diet-friendly recipe is possible with:

Original Lo-Dough Bases
Regular price
from £3.49
Out of stock
Method
Add 5 of the eggs to a small pan, fill with water and bring to boil. Boil for approx. 6 mins or until hardboiled.
Remove from heat and cool under running cold water. Remove shells and chop the white ends off the eggs until you can see yolk. Set aside. Save the white ends for snacking.
Blitz one piece of Lo-Dough into breadcrumbs and place in a large bowl.
Chop the bacon and add to food processor and blitz until smooth. Place in the bowl with breadcrumbs. Add the spices and seasoning along with the pork mince. Using clean hands mix all ingredients together until thoroughly mixed. Set aside.
Now for the casing. On a flat clean surface lay two of the pieces of paper that protect the Lo-Dough overlapping each other.
Place two pieces of Lo-Dough on top.
Using a little water dampen where they overlap, then cover with two more pieces of paper. Using a rolling pin, roll over the Lo-Dough firmly pressing down to form a proper seal and to compress all over.
Remove the top two pieces of paper and lay under the sides. Taking the final piece of Lo-Dough, cut it in half and lay both pieces opposite each other, again overlapping. Dampen where they overlap slightly, cover with paper and roll until sealed.
Lay the mince mixture on top of the Lo-Dough forming a trough in the centre to hold the eggs.
Place the trimmed eggs end to end on top.
Carefully lifting the mince mixture and taking care not to break the Lo-Dough, fold it around the eggs. Take any excess from the ends and place on top. Carefully fold the long sides of the Lo-Dough over to meet in the middle, dampen the edges to seal. Fold the sides up, dampen and seal. Don't worry if the won't stay quite sealed.
Taking a baking tray and a piece of tin foil, carefully turn the pie over and place seal side down on the tin foil. Lift the corners of the tin foil to hold the end seals in place. Using the final egg, pour half the egg white away and then whisk the remainder. Using a pastry brush evenly baste the egg all over the pie.
Loosely cover with tin foil and place in the oven for 1 hour, basting again half way through cooking.
Remove from oven and cool slightly to serve or wait until cool to slice.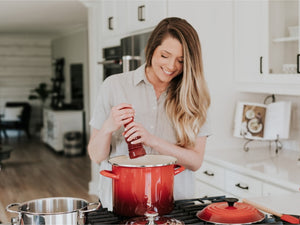 Hungry for more recipes?
Join over 200,000 subscribers in receiving new recipes, tips, offers and a whole lot more.