gluten-free
vegetarian
Pumpkin/Squash Soup (with A Cheese, Mushroom & Spinach Toastie)
Share
Facebook
Twitter
WhatsApp
Email
Nutritious, delicious and perfectly seasonal, this soup and Lo-Dough toastie combo is just the ticket right now
On a cold day nothing beats a warming bowl of soup to warm you up from the inside, fill you full of the good stuff and leave a smile on your face. The soup itself is approx 104 kcal per serving. Well, what if we told you soup AND a cheesy, indulgent, cheesy toastie could be all yours for under 500 kcal? It certainly could if you make it with Lo-Dough!
Don't forget, this soup is worth making on mass and freezing in batches - it reheats perfectly and will supply you delicious meals for weeks to come. 
Check out our best cheese, spinach and mushroom toastie recipe 
Ingredients
Serves 6
1 large butternut squash/half a pumpkin, cut into wedges
2 onions, sliced
1 clove of garlic
1 lemon, juice and zest
1 veggie stockpot cube
A few sprays of 1cal oil
Method
Cut your butternut squash into roughly 8 wedges and remove the seeds Peel the onions and chop them into quarters and place both veg on a tray with a little oil/1 cal spray and some salt.
Roast the veg in a preheated oven at around 200°C/392°F for 30 minutes. Once done, remove from the oven and allow to cool for a few moments.
Add the spray oil in a large sauce pan and gently fry your garlic. Only for a minute - don't allow it to catch.
Roughly chop up the squash (leave the skin on - it's perfectly edible and full of fibre - plus we will be blending it anyway) and throw into the pan with the onions, stockpot and enough water to cover. Add the zest from your lemon. Boil for around 10 minutes.
Once boiled together add the lemon juice and liquidise your soup. You can use a stick blender if you like, though the texture won't quite be as velvety-smooth. Garnish with cream, fried sage and olive oil if desired.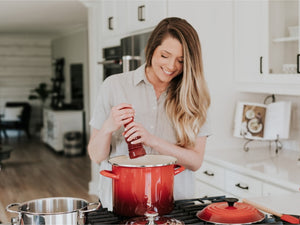 Hungry for more recipes?
Join over 200,000 subscribers in receiving new recipes, tips, offers and a whole lot more.