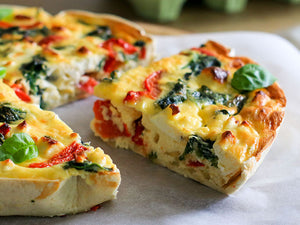 gluten-free
vegetarian
Red Pepper, Spinach and Feta Cheese Quiche
Share
Facebook
Twitter
WhatsApp
Email
Low-Calorie Quiche Using Lo-Dough As A Pastry Replacement
Another classic combination of flavours find their way into a Lo-Dough quiche. Grilled (and skinned) red pepper, wilted spinach and salty, tangy feta cheese, alongside slowly caramelised onion, make this a vegetarian taste-explosion. 
At 189 Calories and 6g of carbs per quarter, this quiche is perfect for slimming and fitness, without sacrificing on flavour. 
You need to put the love in - by slowly caramelising the onions (for a minimum of 20 minutes) you get an incredible sweetness and similarly, you can up the sweet flavour of the pepper, by grilling/roasting it first. You actually want to char the pepper a little - once the skin comes off, any signs of burnt blackness will disappear anyway, but the flesh underneath will be perfectly cooked (if short for time, these are available in jars). All these details count - the flavour you will be rewarded with for the effort you put in will make it all worthwhile. 
Healthy, low carb meals made with Lo-Dough
Quiche, broadly speaking is a healthy, veg and protein-packed dish, but when encased in (admittedly delicious!) fatty, carby pastry, it can become calorie-laden and problematic for dieters of all varieties. By swapping this out for Lo-Dough, the problem is soon solved - with the added bonus of a massive fibre hit, thanks to the Lo-Dough 'case'.
Quiche is proving to be one of the more popular uses for Lo-Dough. For more inspiration, check out our pastry recipes.
Ingredients
Serves 4
1 piece of Lo-Dough
Half an onion, sliced
Half a red pepper, roasted
50g of spinach, wilted and squeezed to remove excess water
50g of feta cheese
150ml of half-fat crème fraiche
4 eggs
1 teaspoon of chopped parsley
Salt & pepper
A few sprays of oil
What you'll need
This diet-friendly recipe is possible with:

Original Lo-Dough Bases
Regular price
from £3.49
Out of stock
Method
Preheat the oven to 160C/325F/Gas 3.
Take a frying pan and some spray oil and gentle fry the onion on a very low heat for 20- minutes, stirring occasionally. Set aside.
Push the Lo-Dough into a greased (with the fry-light) and lined tin. Make sure to do this evenly, taking care to push it into the corners and create an upright edge.
Add a layer of the sweet, cooked onions, followed by the roasted pepper, spinach and feta cheese.
Arrange the spinach in and around the quiche base. Then add the chunks of goats cheese.
Whisk the 4 eggs and half-fat creme crème in a jug with the parsley, season to taste with salt and pepper and carefully pour over the vegetables and feta.
Bake in the oven for 30-35 minutes. Take out and allow to cool on a rack for at least 10 mins. Enjoy warm or cold!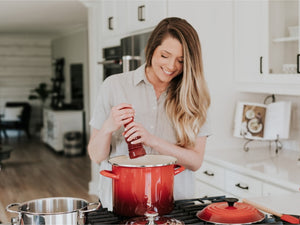 Hungry for more recipes?
Join over 200,000 subscribers in receiving new recipes, tips, offers and a whole lot more.