This Mediterranean/French influenced salad makes for a perfectly balanced meal
Using our Southern Style Coating, you can (low-carb) bread and bake chunks of Beautiful Camembert to serve alongside this incredibly vibrant roasted vegetable salad. You can roast any of your favourites for this, peppers, courgettes, aubergines, tomatoes... the choice is all yours. Just mix with some simple salad leaves and dress with a simple dressing made from the vegetable roasting juices. 
As ever, when making a tray of roast veg, make plenty. The cooked veg will keep in the fridge for a few days and are great reheated (or cold) in salads, wraps, soups, pasta sauces.
Ingredients
Serves 2
Two 15g portions of Lo-Dough Southern Style Coating
250g of mixed Mediterranean veg (we used (aubergines, peppers, courgettes and red onions), cut into 1-inch chunks
250g of camembert, cut into chunks
A couple of handfuls of mixed salad leaves
2 tablespoons of olive oil
2 tablespoons of rosemary/thyme
1 tablespoon of white wine vinegar
Salt & pepper
What you'll need
This diet-friendly recipe is possible with:

Lo-Dough Southern Style Coating
Regular price
£0.99
£4.59
Out of stock
Method
Preheat your oven to 250°C/475°F/Gas 9.
Put all the diced veg (plus any extra you want to cook) into a roasting tray and mix with the olive oil, herbs and seasoning. Roast for 30 minutes, turning occasionally.
Add the coating in one dish and beat an egg in another.
Dip your chunks of camembert in the egg and then drop into the crumb. Shake until completely covered.
Place on top of the veg and roast for a further 10-15 minutes.
Divide the salad onto two plates and serve the cheese and roast veg on top of each. Mix any juices in the bottom of the pan with the white wine vinegar and use this to dress the salad.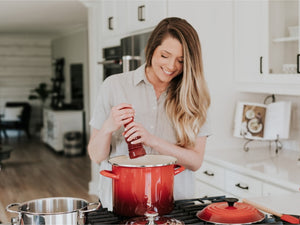 Hungry for more recipes?
Join over 200,000 subscribers in receiving new recipes, tips, offers and a whole lot more.