An Amazing Keto-Friendly Pizza Recipe
Salmon, broccoli and a couple of tomatoes on and in a creamy pesto and mascarpone sauce - perfect for your keto diet.
Topped with cheddar cheese - a mixture of tastes and textures that will leave you wanting more. It's a keto dream and a taste sensation, ready in 15-20 minutes from start to finish. 
Lo-Dough As Your Low-Carb Pizza Base 
It's a high fibre, high protein, low-calorie bread replacement which tastes great and works perfectly as a low-carb pizza base. At 39 calories and 2.2 carbs per base, imagine how adventurous you can be with the toppings?
With the cheddar and the mascarpone, you get the fat and with the Lo-Dough you get the drastic reduction in carbs that allows you to enjoy pizza. 
If following the ketogenic diet, we recommend you have a look at this one - you can modify some of the extra vegetables to suit your taste, but don't miss out - just make it work for you. 
Give this delicious pizza a try for a healthy lunch, light dinner or a great, low-carb snack for when you've got friends over. You don't need to be on a keto diet to enjoy the deliciousness of this simple Lo-Dough dish.
Inspired? Check out these delicious keto chorizo fritters -  made with Lo-Dough, of course. 
Did you know? Lo-Dough is:
High fibre | fat free | low-carb | gluten free | dairy free | high protein | paleo | vegetarian | sugar free 
Ingredients
Serves 1
1 piece of Lo-Dough
60g oak smoked salmon flakes
25g fresh broccoli, cut into 1/4 florettes
3 cherry tomatoes, halved
70g mature cheddar cheese, grated
2 tbsps green pesto
1 tbsp mascarpone
½ tsp cayenne pepper
1 tsp chilli flakes
Salt & pepper to taste
What you'll need
This diet-friendly recipe is possible with:

Original Lo-Dough Bases
Regular price
from £3.49
Out of stock
Method
Preheat your oven to 250°C/475F/Gas 9.
Spray the fry-light into a pan, and fry off your Lo-Dough to add some colour to the base.
Mix the Mascarpone, pesto and cayenne in a bowl. Put the Lo-Dough onto your cooking tray/pizza stone/air-fryer stand and spoon 3/4 of the mix over it, making sure to spread it right to the edge.
Add half the cheese, salmon, broccoli and tomatoes, followed by the other half of the cheese. Blob the remaining pesto and mascarpone mix around. Sprinkle with the chilli flakes.
Bake in your oven for 7-9 minutes or until golden and bubbling. Serve straight away.
💡 Top Tip
If you feel you like your base could be crispier when it comes out, try adding back to a hot, dry frying pan for 8-10 seconds and remove with a fish slice.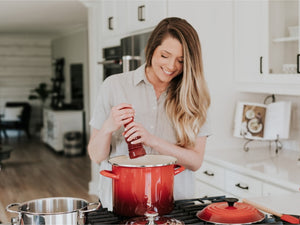 Hungry for more recipes?
Join over 200,000 subscribers in receiving new recipes, tips, offers and a whole lot more.