These tasty, cream cheese filled fishcakes are low-carb & low-calorie
Salmon and cream cheese are a classic pairing, so we thought we'd partner them up in these incredible low-carb fishcakes. Where most fishcakes are bound with mashed potato, we used an egg and a piece of blitzed Lo-Dough, allowing us to keep the carbs right down. We then coated in our Southern style coating and baked... saving on calories, but still packing the finished fish cakes with incredible flavour.

For those of you looking to get protein into your diet, there's plenty here - 39g of it. 
They are deceptively simple to make, filling and super tasty - serve with salad for an amazing lunch or dinner. 
Ingredients
Serves 1
1 piece of Lo-Dough, blitzed to a crumb
A 15g portion of Lo-Dough Southern Style Coating
100g tinned Salmon, drained well
1 large egg, beaten
50g light cream cheese
A small handful of parsley, chopped
10 sprays of oil
Salt & pepper
What you'll need
This diet-friendly recipe is possible with:

Lo-Dough Southern Style Coating
Regular price
£0.99
£4.59
Out of stock
Method
Preheat your oven to 220C/428F. Add the blitzed Lo-Dough, salmon, 2/3rd of the egg and a tablespoon of cream cheese to a bowl and mix well. Split into quarters and then make into rough flat fish cake shapes.
Mixed the remaining cream cheese and parsley together. Add a blob of the cheese and herb mix to the middle of one fish cake and sandwich with another. Mould into a nice fishcake shape than repeat for the second one.
Coat the moulded cakes in the remaining egg and then in the Southern Style Coating crumbs. Spray with the oil and bake in the oven for approx. 15 minutes, or until golden brown outside and piping hot in the middle.
Serve with salad.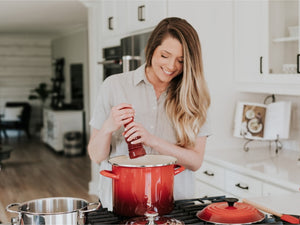 Hungry for more recipes?
Join over 200,000 subscribers in receiving new recipes, tips, offers and a whole lot more.