Recreate this takeaway favourite with the low-carb Southern Style Coating
By tweaking the Southern Style Coating with Chinese five-spice and a little fried chilli and spring onion, you can recreate this fantastic and moreish dish at home. 
By baking the prawns with the coating, you are saving countless calories and carbs and gaining plenty of gut-healthy fibre - all without compromising on taste! It's a no brainer really! 
The key to baking these prawns is hard and fast - get the oven pre-heated as hot as it'll go and get them in and out in 8 minutes for a crispy coating and perfectly cooked prawn. 
Ingredients
Serves 2
Lo-Dough Southern Style Coating (enough to 12 prawns - approx 2 portions)
1 teaspoon of Chinese 5 spice
12 large tiger prawns
1 egg, beaten
1 red chill, sliced
3 spring onions, sliced
10ml of olive oil
What you'll need
This diet-friendly recipe is possible with:

Lo-Dough Southern Style Coating
Regular price
£0.99
£4.59
Out of stock
Method
Preheat your oven to 250°C/475°F/Gas 9.
Add the Chinese five spice to the coating in one dish and beat an egg in another.
Dip your prawns in the egg and then drop into the crumb. Shake until completely covered.
Place on an wire rack (ideally) or oven tray, spray with a little oil and bake at for 8 mins.
While the prawns bake, stir fry the onions and chill for a couple of minutes. Serve over the top of the cooked prawns.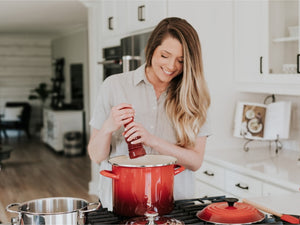 Hungry for more recipes?
Join over 200,000 subscribers in receiving new recipes, tips, offers and a whole lot more.