The best low-calorie breakfasts are made with Lo-Dough
The slimming challenge is real, but with Lo-Dough you can indulge in a delicious traditional breakfast with a fraction of the calories. Lo-Dough combined with Eatlean Smoked Cheese creates the perfect breakfast accompaniment, ideal for a Sunday morning. By replacing toast/hash-browns with a pair of Lo-Dough fritters, you really do scale down the calorific impact of your breakfast - whilst actually upping the flavour with onion, herbs and smokey cheese. The smokey flavour of the cheese sits perfectly with all your breakfast favourites. 
Why use Lo-Dough?
Lo-dough is a virtually carb-free pizza base, bread and pastry alternative that can also be blitzed down in a food processor or nutri-bullet to make a flour replacement for sweet and savoury dishes. 
Low-fat breakfast tips
For the other ingredients, we found the easiest way to keep them out of a greasy pan is to oven-cook them all (egg aside) - bacon, sausages (choose a low-fat option), tomatoes and even a bowl of beans can be placed on a tray or rack and baked off while you get your fritters prepared and cooked. This not only makes the usual plate-spinning exercise of making a full breakfast much easier, but it also means no added fat for all you slimmers! Just remember to stir the beans!  
By blitzing Lo-Dough to crumbs, you create a whole new ingredient - one that can provide new and tasty replacements for the calorific and carb-heavy bread/potato side dishes traditionally found alongside a cooked breakfast. 
Inspired? Check out our low-calorie breakfast sandwich 
Ingredients
Serves 2
1 piece of Lo-Dough, blitzed to a crumb
1 large egg, beaten
½ an onion
20g quark
30g Eatlean smoked cheese
A teaspoon of chopped fresh parsley
10 sprays of fry-light
Salt & pepper
What you'll need
This diet-friendly recipe is possible with:

Original Lo-Dough Bases
Regular price
from £3.49
Out of stock
Method
Oil a pan with 3 sprays of fry-light and soften the onion gently for a 10 minutes.
While the onions fry, add your Lo-Dough, egg, cheese, herbs and seasoning to a bowl and mix. Once cool, add the onions.
Shape the mixture into two fritters and using the remaining sprays, gently fry the fritter on both sides until golden brown and cooked through (for approx. 3 minutes per side).
Serve with any of your breakfast favourites. We went with a slimming friendly full English breakfast.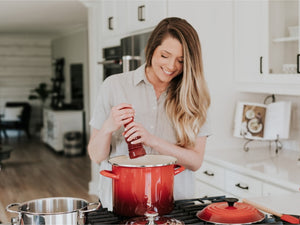 Hungry for more recipes?
Join over 200,000 subscribers in receiving new recipes, tips, offers and a whole lot more.