Make your fish fingers low-cal, low carb and delicious, with our Southern Style Coating. 
For the tastiest low-calorie, low-carb fish fingers, look no further than our Southern Style Coating to create a delicious crunchy coating that is packed with flavour. 
Fish fingers always bring out the kid in us here at Lo-Dough - that's why it's an enduring favourite for many people in the UK.
We have served ours with sweet potato fries and boiled peas. For the ultimate low-carb fish finger meal, you could have them in a Lo-Dough wrap for under 10g carbs.
Making low carb and low calorie meal plates
(Note - The nutritional info for this recipe is for the meal - fish fingers, sweet potato chips and peas as a whole. The carbs and sugars are much higher than normal because of the sweet potato - though this veg is packed with micronutrients, so is a nice treat to have every once in a while!)
Ingredients
Serves 1
Lo-Dough Southern Style Coating (enough to double coat one piece of chicken)
Approx 100g cod loin, sliced into fish fingers the size of your choosing
1 egg white, beaten
1 portion of sweet potato fries (recipe linked in description above)
50g of frozen peas, boiled in salted water for approx 2-3 mins
What you'll need
This diet-friendly recipe is possible with:

Lo-Dough Southern Style Coating
Regular price
£0.99
£4.59
Out of stock
Method
Preheat your oven to 220C. Once hot, get your sweet potato chips in to cook.
You will need two dishes. Add some of the coating to one and and beat an egg white or two in the other.
Dip your fish fingers in the egg white and then drop into the crumb. Shake until completely covered. Repeat the egg and crumb process a second time to create a thick coating.
Place on an oven tray, spray with a little oil and bake at 220C for approx. 15-20 mins. Serve with the chips and peas.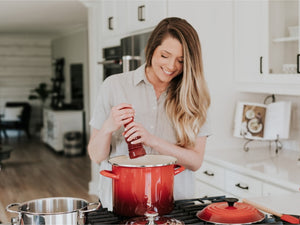 Hungry for more recipes?
Join over 200,000 subscribers in receiving new recipes, tips, offers and a whole lot more.