These super schnitzels are a perfect high protein, low-carb meal
These flattened pork steaks, coated in Lo-Dough's Southern Style Coating and flashed through a super hot oven are a perfect low-fat alternative to the traditional fried in butter schnitzel. It'd be great served as the main part of a sandwich - a Lo-Dough one for the serious low carbers, but here we've plated ours up alongside a baked sweet potato and seasonal greens for a perfectly balanced and delicious meal. The potato and greens will add an additional 142 kcal, 28g carbs and 6g fibre to the macros below. 
Ingredients
Serves 1
1 portion of Lo-Dough Southern Style Coating
1 pork loin steak
1 egg, beaten
1 teaspoon of Dijon mustard
A few sprays of oil
What you'll need
This diet-friendly recipe is possible with:

Lo-Dough Southern Style Coating
Regular price
£0.99
£4.59
Out of stock
Method
Preheat your oven to 250°C/475°F/Gas 9.
Flatten out the steak between two pieces of clingfilm, using a rolling pin. Put the coating in one dish and beat an egg and the Dijon mustard in another.
Dip your flatten pork steak in the egg and then drop into the crumb. Shake until completely covered.
Place on an wire rack (ideally) or oven tray, spray with a little oil and bake for 10 mins. Serve as desired.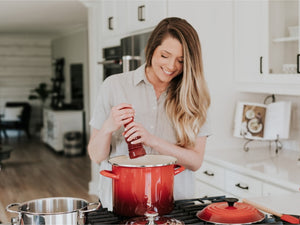 Hungry for more recipes?
Join over 200,000 subscribers in receiving new recipes, tips, offers and a whole lot more.