The Ultimate Low Cal Chicken Wings - US Style.
Our take on the hot wing is a thing of beauty. Marinated wings, baked until tender, then coated in more hot sauce, breaded and baked until crispy. These wings are perfect party food, and thanks to the baking method, they are low calories, low in carbs and high in fibre.
We've served ours with the traditional celery and blue cheese sauce - and this is included in the macros!  
Ingredients
Serves 2
2 portions of Lo-Dough Southern Style Coating
8 chicken wings
2 egg whites, beaten
6 tablespoons of hot sauce (we use a vinegar based sauce like Franks)
3-4 sticks of celery cut into batons
60g stilton cheese
100g of creme fraiche
1 clove of garlic, crushed
What you'll need
This diet-friendly recipe is possible with:

Lo-Dough Southern Style Coating
Regular price
£0.99
£4.59
Out of stock
Method
Preheat your oven to 160C.
Toss the wings in 3 spoons of hot sauce and bake in the oven for 1 hour, or until tender. Allow to cool.
You will need two dishes. Add some of the coating and one for the beaten egg white and 3 more spoons of hot sauce.
Dip your chicken in the egg/hot sauce and then drop into the crumb. Shake until completely covered. these will only need one dip.
Place on an oven tray, spray with a little oil and bake at 220C for approx. 20-25 mins until the coating is crispy and golden.
While the wings cook for the second time, crumble the cheese and crushed garlic into the creme fraiche and mix.
Serve the wings the celery batons and the blue cheese dip with extra hot sauce if desired.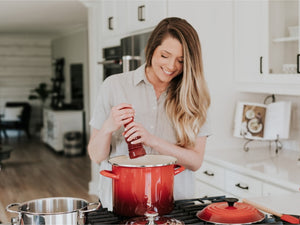 Hungry for more recipes?
Join over 200,000 subscribers in receiving new recipes, tips, offers and a whole lot more.