You can't beat a good old BLT: The sizzling crispy bacon, crunchy lettuce and ripe, succulent tomatoes make this dish a smash hit. Not only does it make for an awesome brunch (with a bloody mary or two we might add) but I think we can all pretty much agree that the BLT is a welcome taste sensation any day of the week!
You may be thinking that the infamous BLT doesn't require much further elaboration as far as recipes go, but because we're using Lo-dough (and it does require some extra care and consideration when it comes to cooking methods) we've decided to go ahead anyway and bring to you our personal favourite version!
We love using Nandos Perinaise Sauce (25g equates to approx 79 calories and 7g fat). It's so tasty, and it means the calories and carbs saved on traditional bread consumption can go towards your favourite sauces. Alternatively, you could mix a 'lighter than light mayo' with a teaspoon of sriracha sauce.
Why not try our low fat cheese burger toastie 
Ingredients
Serves 1
1 piece of Lo-dough
2 pieces of thick cut bacon
5 crunchy lettuce leaves
2 ripe vine tomatoes, cut into quarters
Frylight/Low calorie cooking spray
25g Perinaise
What you'll need
This diet-friendly recipe is possible with:

Original Lo-Dough Bases
Regular price
from £3.49
Out of stock
Method
Plug your sandwich press in and allow time to heat.
Cook your bacon to taste.
Take a piece of Lo-Dough out of the packet, ensuring the remaining piece is folded/sealed with a kitchen peg. Remove the paper.
Pan fry your Lo-dough on one side in Frylight (extra virgin olive oil or coconut oil for LCHF) on a high heat for approx 30 seconds.
Remove from the pan and lather in mayonnaise/sauce of choice.
In the middle of your Lo-Dough, layer the cooked bacon and crunchy lettuce.
Top with tomatoes and sprinkle with salt & pepper.
Fold the Lo-dough over and under, spray with Frylight and cook in the sandwich press for approx 5 minutes until golden. Serve immediately.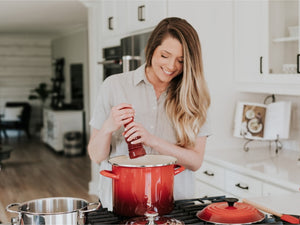 Hungry for more recipes?
Join over 200,000 subscribers in receiving new recipes, tips, offers and a whole lot more.