We took a calorific Teeside favourite and reimagined it as a reduced-calorie, low-carb modern-classic. 
Using the Southern Style Coating, we have come up with a fantastic low-calorie, low-carb, high fibre take on the North-Eastern favourite, the Chicken Parmo. A breaded and deep-fried chicken breast, topped with mozzarella cheese and baked in a tomato sauce, the Parmo is certainly not short on flavour. But by switching the carby crumbs for Lo-Dough's Southern Style Coating and skipping the frying in favour of baking in the oven, you can make the dish in a much healthier way, without missing out on its indulgent, moreish flavour!
Make two (or more) and you can feed a friend or save a meal in the fridge for a couple of days and reheat when you fancy it!
Ingredients
Serves 2
Lo-Dough Southern Style Coating - 2 portions
2 chicken breasts
2 eggs, beaten
120g of reduced fat mozzarella, thinly sliced
140g of pizza sauce/garlic & herb passata
A few sprays of oil
Basil to serve (optional)
What you'll need
This diet-friendly recipe is possible with:

Lo-Dough Southern Style Coating
Regular price
£0.99
£4.59
Out of stock
Method
Make your chicken up according to the packet instructions (egg and coat the chicken twice). Spray with a little oil. Place in the oven at 220°C for around 15 minutes.
In a large roasting tin, add the sauces to the base. Once the chicken is cooked, transfer to onto the sauce. Then lay the slices of mozzarella on top of the chicken. Return to the oven and bake for a further 10 minutes or until the mozzarella is golden and melted.
Serve - make sure to plate up with plenty of sauce. This dish would work perfectly with a simple green salad.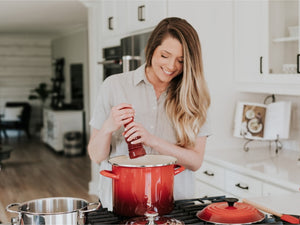 Hungry for more recipes?
Join over 200,000 subscribers in receiving new recipes, tips, offers and a whole lot more.