This stateside classic is a great and thrifty alternative to a roasting joint
Meatloaf is a beautifully comforting meal that won't break the bank and how you serve it is up to you. You can go with traditional gravy and veg sides... making the meatloaf the centrepiece of a Sunday roast style meal. Alternatively, you could go American-Italian... serving with marinara sauce and pasta. Its a makes a pretty good sandwich filling too (Keep it Lo-Dough for low-carb)!
Most meatloaf recipes call for breadcrumbs. The Lo-Dough trick is to add Southern Style Coating to the meatloaf. This isn't just for bulk - it lightens and softens the texture of the dish- and in the case of our coating, it add a huge hit of flavour and spice too! It will not only keep the carbs down - it'll massively up the fibre too.
Ingredients
Serves 6
For the meatloaf
5 servings (half a bag) of Lo-Dough Southern Style Coating
500g of 5% fat beef mince
1 medium onion, finely chopped
2 cloves of garlic, crushed
A tablespoon of Worcester sauce
2 large eggs, beaten
A pinch of pepper
For the glaze
A tablespoon of soy sauce
A tablespoon of ketchup
A tablespoon of cider vinegar
What you'll need
This diet-friendly recipe is possible with:

Lo-Dough Southern Style Coating
Regular price
£0.99
£4.59
Out of stock
Method
Preheat your oven to 180°C/356°F/Gas 4.
Mix all the meatloaf ingredients together in a bowl using your hands to make sure everything is well blended. Bake in the oven for around 60 minutes.
Mix all the ingredients for the glaze. Brush the meatloaf with a layer of glaze every 15 minutes, saving one final glaze for the end to give the top a nice shine.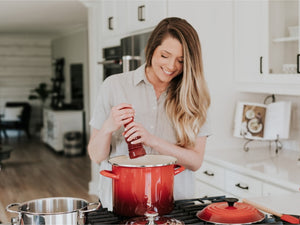 Hungry for more recipes?
Join over 200,000 subscribers in receiving new recipes, tips, offers and a whole lot more.