We've come up with a nifty recipe for low-carb donuts - just 3 carbs per donut!
When we brought out our recipe for Lo-Doughnuts, we made a couple of suggestions for toppings to keep the calories and carbs as low as possible.

We'll we've revisited them and found the ultimate solution to getting a low carb glaze for your donut. The glaze is made from cream-cheese - sweetened and loosened with a little milk and with the tiniest smidgen of chocolate grated over (or flaked nuts). Think donut-meets cheesecake... not a bad combo and if you are on a low-carb diet and craving a 'nut, this is the recipe for you!
Ingredients
Serves 3
1 piece of Lo-Dough, blitzed to fine crumbs
1 large egg, beaten
30ml of semi skimmed milk
2 dessert spoons of erythritol sweetener
A level teaspoon of baking powder
To glaze
Half a tub of cream cheese
A splash of whole milk to loosen to a drizzling consistency
4 tablespoons of powdered erythritol sweetener
A couple of drops of any colouring of your choice
A grating of chocolate (or nuts if desired)
What you'll need
This diet-friendly recipe is possible with:

Original Lo-Dough Bases
Regular price
from £3.49
Out of stock
Method
Preheat your oven to 180°C/356°F/Gas 4.
Add the Lo-Dough, egg, milk, sweetener and baking powder to a bowl and mix well.
Spoon the mixture in into the silicone moulds. You should just slightly under fill the 3 of the moulds.
Bake for 15 minutes then take out, remove from the moulds and allow to cool on a rack.
While the donuts cool, mix the cream cheese, milk, erythritol and colouring. Pour over the cooled donuts, grate over the chocolate (you don't need much) and put in the fridge for an hour to allow the cream cheese mix to firm up a little. Serve when ready.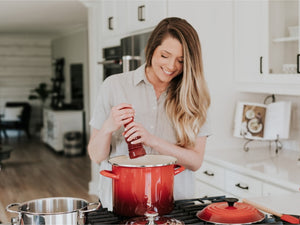 Hungry for more recipes?
Join over 200,000 subscribers in receiving new recipes, tips, offers and a whole lot more.