Get an incredible hit of fibre in one delicious veggie meal
Katsu is most famously made with pork or chicken and is fast becoming one of the nation's favourites. Here we have flipped the whole dish on its head - swapping the meat for mushrooms and aubergine, breading them in our Southern Style Coating and serving with brown rice instead of the usual white. What this gets you is the most incredible tasting katsu that delivers maximum fibre, for minimal carbs.
If you are seriously carb counting, you can serve this in a Lo-Dough wrap instead, which would save 25g of carbs and over 100 calories for the meal. 
Ingredients
Serves 1
Lo-Dough Southern Style Coating, 1.5-2 portions
1 large portabello mushroom, whole
100g aubergine cut into discs
1 large egg beaten, for egg-wash
100g of Mayflower Curry sauce (after making up)
120g brown rice
20 sprays of oil
Salt & pepper
What you'll need
This diet-friendly recipe is possible with:

Lo-Dough Southern Style Coating
Regular price
£0.99
£4.59
Out of stock
Method
Preheat your oven to 200C/392F/Gas mark 6.
Coat the aubergine and mushrooms, with a single layer of the Southern.
Style coating as per the packet instructions.
Spray each the coated veg with a few sprays of fry light and put on a tray and into the oven. Around halfway through the cooking time, give them a few more sprays to help crisp up.
Whilst the veg are in the oven, make up your curry sauce according to the instructions and cook your rice.
After 15-20 minutes, take the coated veg out of the oven. Slice the mushroom into bite sized pieces. Serve with the rice and sauce.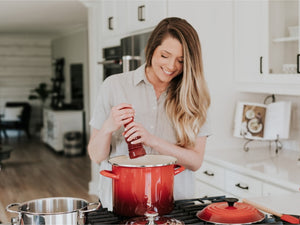 Hungry for more recipes?
Join over 200,000 subscribers in receiving new recipes, tips, offers and a whole lot more.