Meat free pizza packed with protein
Vegetarian pizza which is low calorie and wonderfully packed with protein, with Lo-Dough as the ultimate low fat pizza base. 
For this pizza we used Eatlean cheese which is particularly good on protein levels, but you can still use a low fat cheese and produce a very healthy pizza with this recipe. 
Without Eatlean, you could make this with cream cheese/creme fraiche and mozzarella and it would be totally delicious - the choice is yours. Whichever way you do it, using Lo-Dough as a low fat pizza base really does give you the leeway to go a little more wild with your choice of toppings. 
Low fat pizza base means freedom
Using Lo-Dough as your low calorie pizza base which is also sugar free and low fat, as you can imagine opens up possibilities when it comes to toppings. Pizza bread is generally one of the worst parts of this delicious Italian meal, and by being Lo-Dough smart, you can turn it into an effectively healthy meal. 
Inspired? Check out the ultimate guide for low calorie pizza recipes made with Lo-Dough. 
Have you tried the 170 calorie ham & mushroom pizza?
Lo-Dough is:
High fibre | fat free | low-carb | gluten free | dairy free | high protein | paleo | vegetarian | sugar free 
Ingredients
1 piece of Lo-Dough
50g of Eatlean Spreadable Protein Cheese
60g of grated Eatlean Protein Cheese
1-2 mushrooms, sliced
20g of courgette, sliced
10g of red onion, finely chopped
A teaspoon of fresh thyme, finely chopped
2-3 sprays of fry-light oil
What you'll need
This diet-friendly recipe is possible with:

Original Lo-Dough Bases
Regular price
from £3.49
Out of stock
Method
Preheat your oven to 250°C/475F/Gas 9.
Spray the fry-light into a pan, and fry off your Lo-Dough to add some colour to the base.
Put the Lo-Dough onto your cooking tray/pizza stone/air-fryer stand and spoon the spreadable cheese over it, making sure to spread it right to the edge.
Add the red onion, the thyme, then the grated cheese and finish with the mushroom and courgette.
Bake in your oven for 7-9 minutes or until golden and bubbling. Garnish with fresh mixed herbs if you like. Serve straight away.
💡 Top Tip
If you feel you like your base could be crispier when it comes out, try adding back to a hot, dry frying pan for 8-10 seconds and remove with a fish slice.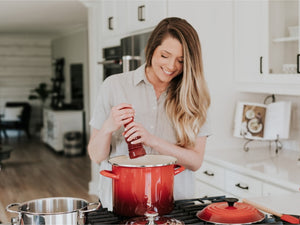 Hungry for more recipes?
Join over 200,000 subscribers in receiving new recipes, tips, offers and a whole lot more.