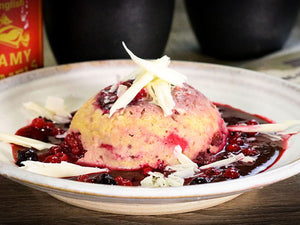 gluten-free
vegetarian
White Chocolate & Summer Fruit Mug Cake
Share
Facebook
Twitter
WhatsApp
Email
A Low Calorie, Fruity & Choc Dessert, Made With Lo-Dough
Sweet white chocolate and tart summer fruit, wrapped up in a soft moist sponge - this dessert can only be a winner! This sumptuous pud comes in at mere 193 calories and only 13 carbs all thanks to the use of crumbed Lo-Dough as a flour replacement. For just a few more carbs and calories, we have added a simple fruit coulis and a few white chocolate curls.
While we can't gloss over the fact that white chocolate is a particularly sugary ingredient, it's lucky that a little goes a long way and with such a low carbohydrate cake and sweet/tart fruit, we think this would make a perfectly fine treat every now and again. 
Not only is it low-calorie and low-carb, it is also packed full of fibre, meaning you could enjoy it after a lighter meal (salad, soup, etc) and feel satiated and content.
Easy To Make, Low-Calorie Mug Cakes
Using a Nutri-Bullet or food processor, blitz your Lo-Dough down to a crumb and add to a beaten egg, a teaspoon of sweetener and a dessert spoon of creme fraiche/yoghurt/quark. Mix well. Then add 100g of your main ingredients and carefully mix through - in this case, we used 90g of defrosted summer fruits and 10 of white chocolate. Put into your mug and cook for 2 - 2.5 minutes and then leave to stand for a further minute. Serve hot or chilled. 
For a pictorial step-by-step guide to making mug cakes have a look at our Mug Cake Perfection blog.
Ingredients
Serves 1
1 piece of Lo-Dough, blitzed to fine crumbs
90g of frozen summer fruit
10g of white chocolate, chopped into chips
1 large egg, beaten
1 dessert spoon of fat free yoghurt
2 heaped teaspoons of sweetener
What you'll need
This diet-friendly recipe is possible with:

Original Lo-Dough Bases
Regular price
from £3.49
Out of stock
Method
Add all the ingredients to a bowl and mix well.
Add the mix to a mug and cook in a microwave for 2-3 minutes (depending on wattage). After 2 minutes take out and check by pressing the bottom of the mug cake. It should feel firm to touch, with a little bounce.
Take out and leave to stand in the mug for a further minute before turning out onto a plate.
Serve with a little sweetened blitzed fruit and extra white chocolate curls if desired.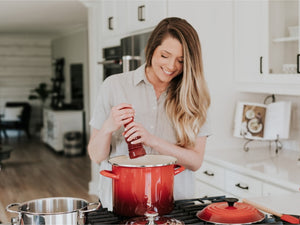 Hungry for more recipes?
Join over 200,000 subscribers in receiving new recipes, tips, offers and a whole lot more.