A Great Low-Carb Dip Or Addition To A Kebab
Baba ganoush is often served as an appetiser right across the Middle East. Some are spiced, some are mixed with chopped tomatoes. The Israeli version has mayonnaise added to it. We have gone with the most commonly found variety - aubergine, garlic tahini, lemon juice, parsley, and just a pinch of cumin. If you happen to have a bbq on the go, cook the aubergines on that for an incomparable smokey flavour. Keep the carbs low by eating the dip with Lo-Dough cracker bread.
Baba Ganoush is not just for low-carbers. You can make a reduced-fat, slimming version by switching out the tahini for some fat-free Greek yoghurt. 
As mentioned above, it works fantastically well pair up with a kebab - lamb kebabs in particular. Whether it's a kofta/shish style kebab, or just grilled chunks of lamb, the smokey flavour of the baba ganoush works perfectly as the sauce... maybe with a dash of chilli sauce too. 
This one is not so commonly found in the shops, so making your own is the way forward. It's an absolute doddle, it tastes great and you should seriously think about giving it a go!
Ingredients
Serves 5
2 Aubergines
The juice of 1 lemon
A clove of garlic, crushed
1 tablespoon of tahini paste (or peanut butter if you don't have tahini - swap for fat-free yoghurt if using)
Half a teaspoon of cumin
To dress
A drizzle of olive oil
Salt & pepper
Method
Cut your aubergines in half and score with a knife. Drizzle with olive oil, or spray with with a low cal spray oil. Season and bake in an oven at 180C for 45 minutes.
Allow the aubergine to cool and then scoop out the soft flesh.
Add all the ingredients into a food processor and blitz down to a puree. Serve with crackers or as the sauce for a kebab.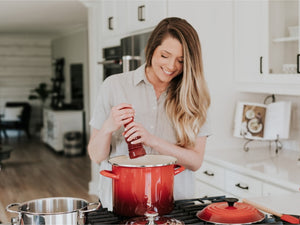 Hungry for more recipes?
Join over 200,000 subscribers in receiving new recipes, tips, offers and a whole lot more.