A Super Tasty, Healthy Salad With A Fat-Free Dressing
This wonderful salad is something a little different but still absolutely guaranteed to brighten your day. It would work fantastically alongside any fish or white meat dishes made with Lo-Dough. 
It is packed full of nutrients, comprised as it is of fennel, orange, spinach and walnuts, a little sliced red onion and an orange juice and yoghurt dressing. The combination of textures are tastes are absolutely fantastic and the bright clean flavours will whisk you away to sunnier climes (this flavour combination is Italian/Mediterranian in its origin).  
You can use a mandolin to slice your fennel if you have one, otherwise, take your time and slice it as thinly as you possibly can with a knife. Likewise, you can segment your orange as we have done, or just peel and serve in slices. We have added iron-rich spinach and a few crushed walnuts for texture.
Fat-Free Dressing
To make the dressing, squeeze about 20-30ml of orange juice into a jug or bowl. Top with approx 3 times as much yoghurt, a teaspoon of mustard and a teaspoon of vinegar. Season and add a little chopped parsley and mix well with a fork. Pour over as much or as little as you like (this is low-calorie and fat-free - you really can go wild). 
When serving a salad, sometimes it makes good sense to ring the changes and think outside the box - or at least look to our Mediterranean cousins for inspiration.
Ingredients
Serves 3
For the salad
1 bulb of fennel, sliced as thinly as possible
50g of spinach
1 orange, peeled and either segmented or sliced
A handful of crushed walnuts
For the dressing
60g of fat-free yoghurt
20ml of orange juice
A teaspoon of cider/white wine vinegar
A teaspoon of dijon mustard
A small handful of chopped parsley
Salt & pepper
Method
Mix all the dressing ingredients in a jug/bowl until well combined.
Arrange the salad on one platter, or across two-three plates, depending on who you are serving (any undressed salad can be kept in a sealed box in the fridge overnight).
Dress the salad and serve immediately.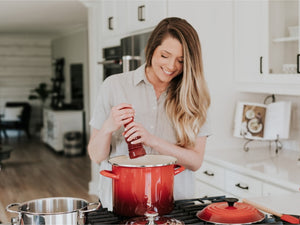 Hungry for more recipes?
Join over 200,000 subscribers in receiving new recipes, tips, offers and a whole lot more.