One for the gym and fitness fanatics, especially those who are keen for a protein fix after a workout.
We've revisited our brownie recipe and tweaked the recipe for the gym/fitness minded types amongst you, adding 'Precision Protein Isolate' powder to the mix (and a little extra moisture) to create protein-packed powerhouses that still taste indulgent and delicious. 
Fitness & macros 
Thanks to Lo-Dough's low carbohydrate and high fibre - these will fit your macro's perfectly, not spiking the carbs but giving you enough fibre to satiate your hunger when you are reaching out for a sweet treat. The mix is made with 40g of melted, high quality dark chocolate and some added cocoa, so you know it's going to hit the spot taste-wise. 
Protein powder has a tendency to dry recipes out, so by keeping these brownies deliberately undercooked and soft in the middle, it goes some way to getting around this problem and giving you a satisfying mouth-feel.
If you don't require the added protein and you are looking for the original brownie recipe, click here. 
See image below for how we set up our baking tin:
Check out the Lo-Dough Eatlean Protein Pizza for more post workout goodness.
Lo-Dough is
High fibre | fat free | low-carb | gluten free | dairy free | high protein | paleo | vegetarian | sugar free 
Let's get cooking...
Ingredients
Serves 3
1 piece of Lo-Dough, blitzed to fine crumbs
40g of dark chocolate
2g of cocoa
20g Sukrin Gold sweetener (or any good baking sweetener of your choice)
1 large egg, beaten
60ml of milk
45g of 'Precision Protein Isolate' powder
A few drops of vanilla extract
What you'll need
This diet-friendly recipe is possible with:

Original Lo-Dough Bases
Regular price
from £3.49
Out of stock
Method
Preheat your oven to 220C/428F/Gas 7.
Add the eggs, cocoa, vanilla extract and sweetener into a bowl and beat with a whisk. Add the Lo-Dough crumbs and mix well.
Melt the chocolate into the milk in a microwave, stirring at 20 second intervals until combined fully. Allow to cool briefly.
Combine the two mixes thoroughly. Finally, add the protein powder and miz well.
If using a standard 8 inch tin, you will need to make an extra wall made out of tin-foil - this mix will fill roughly a third of the tin. Otherwise a small loaf tin or any small tin may be suitable (brownies don't have to be square!).
Fill the chosen tin and bake for 7-8 minutes. You are looking for the mix to be slightly undercooked when it leaves the oven. As it cools, this will make them chewy and fudgy.
Leave to cool (minimum 30 minutes) on a rack and then cut into 3 squares. These will keep for up to 3 days - use a sealed box.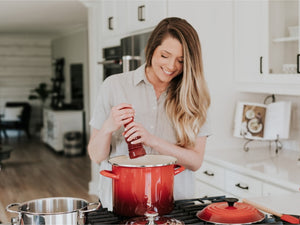 Hungry for more recipes?
Join over 200,000 subscribers in receiving new recipes, tips, offers and a whole lot more.