The Middle Eastern Dip That Went Truly Global
In the last 30-40 years, hummus has gone from a mere curio to a truly ubiquitous, everyday food, as far as western palates are concerned. Now, it is most commonly eaten as a shop bought product, quick and convenient and undoubtedly tasty.  
That said, nothing beats the homemade version, not by a long shot, and in terms of value for money, making your own is a no-brainer. Well, if we told you hummus made by hand could be yours in under ten minutes, would you still bother buying it in a little plastic pot? 
Homemade Diet-Friendly Hummus
The real beauty of making your own allows you to customise it in terms of flavour and your diet. If looking for something rich and indulgent, you can go heavy on the olive oil (remember, you are saving calories and carbs, by pairing it with Lo-Dough). If keto, kyou neeed to be very aware of your portion size - 50g of hummus contains approx. 6-7g of carbs. If slimming, swap out the tahini for fat-free yoghurt and up the lemon juice and garlic for an extra flavour hit. We personally like to add a little smoked paprika and cumin to ours, but again, that's up to you. 
The recipe below is for our perfect hummus, but don't be afraid to change and adapt it for your own needs and preferences. 
Oh yeah, don't forget to serve it with Lo-Dough crackerbreads, our falafel wrap or as part of our baked hummus and feta flatbread, for the ultimate reduced cal/carb/fat meal to suit your dietary needs!  
Ingredients
Serves 7
For the hummus
A 400g can of chickpeas, drained, but retaining some of the water in a separate bowl
The juice of 1 lemon
A clove of garlic, crushed
2 tablespoons of tahini paste (or peanut butter if you don't have tahini - swap for fat-free yoghurt if using)
To dress (optional)
A dusting of smoked paprika
A dusting of cumin
A sprinkle of finely chopped parsley
A few whole chickpeas
A drizzle of olive oil
Method
Add all the ingredients into a food processor and blitz down to your desired consistency (we like a little texture).
Serve with the dressing and decoration of your choice.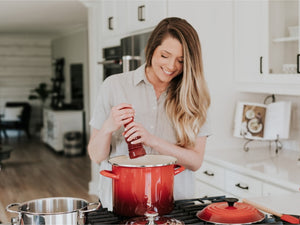 Hungry for more recipes?
Join over 200,000 subscribers in receiving new recipes, tips, offers and a whole lot more.