This Low-Carb Veggie Wrap Is Heaven Sent
A beautiful falafel wrap has got to be up there with the all-time great vegetarian dishes. The chickpea-based falafel, the salad, the sauces, the hummus, the chilli - it all adds up to something really, really special. As a bonus - the falafel and the hummus supply a massive 5g of fibre and when coupled with Lo-Dough's 9.3g, this is boosted to a total of 14.3g - nearly half your recommended daily fibre intake in one meal. 
You get all this fibre and flavour for just 329 calories and 24g carbs - only 5g of which are sugars. 
Falafel is a commonly found middle eastern street food dish that is thought actually have its origins in Egypt. It is made from either fava beans or chickpeas (or indeed, both). They are commonly spiced with cumin and coriander seed and fresh parsley and coriander (herb). 
High-Fibre Wraps
Lo-Dough can be used to make a huge variety of high-fibre, low-carb and low-calorie wraps. Check out the recipes below and see for yourself just how delicious getting a proper intake of fibre can be. 
Ingredients
Serves 1
1 piece of Lo-Dough
70g of falafel (approx. 3 balls), cooked according to packet instructions
14g of pickled chilli peppers
A tablespoon of hummus
Half a tomato, sliced
25g of cucumber, sliced
20g Yoghurt
8g of mixed salad
A quarter of a red chilli, sliced
A small handful of chopped parsley
A small handful of chopped mint
A few leaves of coriander to garnish
A little chilli sauce
Salt & pepper
What you'll need
This diet-friendly recipe is possible with:

Original Lo-Dough Bases
Regular price
from £3.49
Out of stock
Method
Use a rolling pin to flatten down your piece of Lo-Dough.
Spread the hummus in a streak up the centre of the Lo-Dough. Mix the yoghurt and mint together.
Arrange all the ingredients on the hummus, finishing with the falafel and Lo-Dough. Season to taste and add dollops of the mint yoghurt and drops of the chilli sauce around. Serve with a wedge of lemon if desired.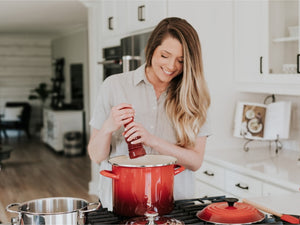 Hungry for more recipes?
Join over 200,000 subscribers in receiving new recipes, tips, offers and a whole lot more.