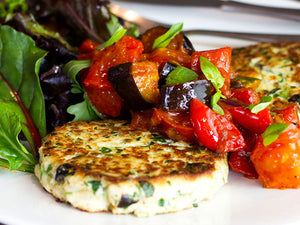 gluten-free
vegetarian
Low-Cal Olive & Herb Fritters With Ratatouille
Share
Facebook
Twitter
WhatsApp
Email
A Low-Calorie Lunch That Tastes Like Sunshine!
A great hack for Lo-Dough lovers is the savoury fritter! This transforms your Lo-Dough into another fantastic dish that can be easily adapted into countless recipes. For this recipe, we are heading in a Mediterranean direction, adding olives, garlic and fresh herbs to our fritters to serve alongside a beautiful ratatouille. The flavour combination is a no brainer - salty olives, punchy garlic and aromatic herbs make the fritter itself nothing short of irresistible, but when served alongside the sweet and tangy ratatouille, this is nothing short of next level. 
A properly made ratatouille is something to savour. Cut your aubergine, courgette, red onion and pepper up into rough pieces, spray with oil, season and place in a roasting tray. Cook in a high oven for 20-30 minutes, stirring occasionally until the vegetables have coloured and cooked through. In another pan, add roughly chopped tomatoes, finely chopped garlic and a couple of spoons of passata and cook down for a few minutes. Stir through the roasted veg, check for seasoning  This is your finished ratatouille - We recommend making more than you need for this one recipe as this is a great thing to have in your fridge for a few days. It works brilliantly in salads, with pasta and alongside meat and fish. Once this is ready, any number of simple, healthy meals are yours in minutes. A 200g portion of ratatouille is around 85 calories, 12g carbs, 4g of fat and 4g of fibre. 
Quick and Easy, Low-Calorie and Low-Carb Meal Ideas
Which brings us to the Lo-Dough fritters. Low in calories, low in carbs, but high in protein and fibre and most importantly, flavour, these beauties are a godsend to have in your culinary arsenal. Easy and quick to make (blitz the Lo-Dough to crumbs, mix with a few other ingredients, mould and lightly fry in a non-stick pan), we wholeheartedly recommend you give these or any of our fritter or fishcake recipes a go! 
Ingredients
Serves 1
1 piece of Lo-Dough, blitzed to a crumb
1 large egg, beaten
1 small clove of garlic
10g of quark
30g mozzarella
Chopped fresh parsley and basil
A tablespoon of black olives, chopped
10 sprays of oil
Salt & pepper
What you'll need
This diet-friendly recipe is possible with:

Original Lo-Dough Bases
Regular price
from £3.49
Out of stock
Method
Add your Lo-Dough, egg, cheese, herbs, garlic, olives and seasoning to a bowl and mix.
Shape the mixture into two fritters and using the spray, gently fry the fritter on both sides until golden brown and cooked through (for approx. 2.5-3 minutes per side).
Serve with your ratatouille and green salad for a perfect lunch.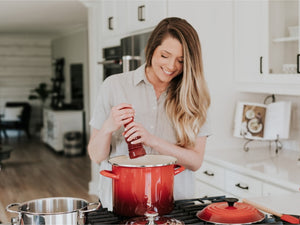 Hungry for more recipes?
Join over 200,000 subscribers in receiving new recipes, tips, offers and a whole lot more.