Unleash This Low-Calorie Quiche - Perfect for Sunday Roast Leftovers
If you have some leftovers from a Sunday dinner, a quiche is a fantastic way of breathing new life into them. In this case, we had some roast chicken and a little cooked broccoli hanging around in the fridge, as well as a few fresh chives - perfect filling ingredients for a midweek quiche treat. 
At just 184 calories and 3.5g of carbs per portion, this is no ordinary quiche. Lo-Dough effortlessly replaces the pastry component of the dish, leaving you all the calorific room in the world to fill up with delicious ingredients. 
Low-Calorie Meal Inspiration
Of course, it doesn't have to stop with roast chicken and broccoli. Roast lamb and peas would be lovely. Roast pork and chopped cabbage would be equally nice. Beef and leftover cauliflower cheese would be a total winner (In fact.... we really must try that!). 
Leftovers needn't be dull or just 'more of the same'. Try adding them into a Lo-Dough quiche to make them truly sing the second time around.  
Serve with a delicious side salad and maybe even some sweet potato fries for a perfectly balanced and nutritious lunch.  
Ingredients
Serves 4
One piece of Lo-Dough, rolled flat with a rolling pin
15g of grated cheddar cheese
75g of cooked chicken, broken into pieces
50g of cooked broccoli
4 large eggs, beaten
150ml of half-fat creme fraiche
A tablespoon of chopped chives
Salt & pepper
What you'll need
This diet-friendly recipe is possible with:

Original Lo-Dough Bases
Regular price
from £3.49
Out of stock
Method
Preheat the oven to 160C/325F/Gas 3.
Push the Lo-Dough into a 7inch tin. Make sure to do this evenly, taking care to push it into the corners and create an upright edge.
Arrange the chicken and broccoli in the base.
Whisk the 4 eggs and half-fat creme crème in a jug with the finely chopped chives, salt and pepper. Add the grated cheese on top.
Bake in the oven for 30-35 minutes. Take out and allow to cool on a rack for at least 10 mins. Enjoy warm or cold!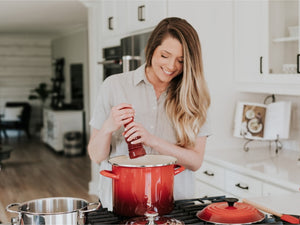 Hungry for more recipes?
Join over 200,000 subscribers in receiving new recipes, tips, offers and a whole lot more.