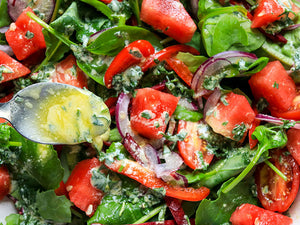 gluten-free
vegetarian
Low-Calorie Side Salad and French Dressing
Share
Facebook
Twitter
WhatsApp
Email
The Perfect Low-Calorie, Nutrient-Dense Salad
We're sure you all know how to rustle up a simple salad. Fresh lettuce (or for convenience, a bag of leaves), finely sliced red onion, possibly red pepper, juicy tomatoes... the list goes on. Well here's a tip - try putting in chunks of watermelon... Trust us! They add a juicy sweetness to any salad (think cucumber turned up to 11!) and make every mouthful joyously refreshing. It's pretty much the perfect summer salad 
As an all-purpose salad, there is little that can't be paired with this salad - meats, fish, hams, halloumi, roasted veggies... the list goes on. As such, we have dressed it in a classic French dressing. The basic rule for a French dressing is 1 part mustard, 1 part vinegar and 3 parts oil. Season and add any herbs you like. Though high in fat, this can be made with olive or avocado oil, so you know it's healthy fat you are having. It's also worth noting that a little goes a long way - When using an oily dressing, it is there to lightly coat the leaves in your salad, not drown them! If looking for a fat-free dressing, the one we use on our fennel and orange salad would work equally well here.
Low-Cal Salad Dressing Alternatives
This salad also works especially well alongside oriental dishes. If you were thinking of pairing it with our hoisin duck wrap (for example), we would recommend the same salad, but dressed with soy, lime, a pinch of sweetener, chilli and a little sesame oil. 
However you dress it, this is a salad you will come back to again and again. 
Ingredients
Serves 3
For the salad
Half a bag of mixed salad leaves
5 cherry tomatoes, halved
20g of red onion, finely sliced
Half a red pepper, finely sliced
100g of watermelon
For the dressing
1 tablespoon of olive oil
1 teaspoon of dijon mustard
1 teaspoon of cider/white wine vinegar
A small handful of chopped parsley
Salt & pepper
Method
Mix all the dressing ingredients in a jug/bowl until well combined.
Arrange the salad on one platter, or across two-three plates, depending on who you are serving (any undressed salad can be kept in a sealed box in the fridge overnight).
Dress the salad and serve immediately.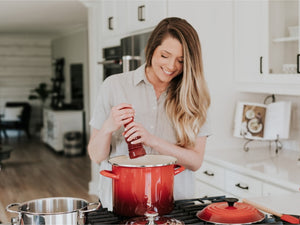 Hungry for more recipes?
Join over 200,000 subscribers in receiving new recipes, tips, offers and a whole lot more.