A Classic Flavour Combination Brought Onto A Low-Calorie Pizza
If you are a fan of blue cheese and are in the market for something a little different on your pizza, you should definitely check this one out. A thin coating of soft cream cheese (we used Eatlean spreadable... more of that later), a good layer of soft, caramelised fennel, blobs of good, strong dolcelatte in and around and crunchy, toasty walnuts - What a combination! 
You know the story by now - by switching to a Lo-Dough pizza base, you turn pizza on its head. Just check out the macros: Just 340 calories, 12g of carbohydrate and a massive 13.3g of fibre! Pizza made with Lo-Dough is pizza with benefits! Always low-calorie, always low carb, always high-fibre and in most cases, high-protein too!
Now, we love a traditional pizza with a tomato sauce on the base, but a change is as good as a rest and sometimes it's good to mix things up in the kitchen! In this case, we've used Eatlean spreadable protein cheese and 100g of slowly caramelised fennel as our base ingredients. Eatlean's cheese products are incredibly low in fat and high in protein - they are well worth seeking out, but if you can't get hold of that, we recommend going for low-fat cream cheese. 
Low-Calorie Pizzas Made With Lo-Dough
We have loads and loads of brilliant low-calorie, low-carb pizzas that can be made with Lo-Dough - one thing we don't ever want is for pizza to become boring or run-of-the-mill! Have a look at some of the other left-of-centre pizzas we've made previously for inspiration:
Ingredients
Serves 1
1 piece of Lo-Dough, briefly pre-browned in a pan
50g of strong blue cheese (we used Dolcelatte)
100g of fennel (approx. half a bulb), finely sliced
2 tablespoons of walnuts, crushed
25g of Eatlean spreadable cheese (or another low-fat soft cheese)
Parsley to garnish (optional)
Spray oil (approx. 8 sprays)
What you'll need
This diet-friendly recipe is possible with:

Original Lo-Dough Bases
Regular price
from £3.49
Out of stock
Method
Preheat your oven to 250°C/475F/Gas 9.
On a very gentle heat, gently fry the sliced fennel in some spray oil until soft and translucent. This will take up to 20 minutes. If the fennel starts to catch, add a splash of water to calm things down.
Spread the soft cheese across the pre-browned Lo-Dough in a thin layer, right up to the edge.
Sprinkle the cooked fennel over the top and then arrange the blue cheese and walnuts around and bake in the oven for 7-10 minutes, or until the cheese has melted.
Remove the pizza from the oven, garnish with the parsley if desired and serve.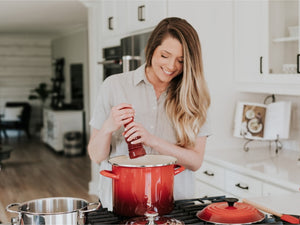 Hungry for more recipes?
Join over 200,000 subscribers in receiving new recipes, tips, offers and a whole lot more.