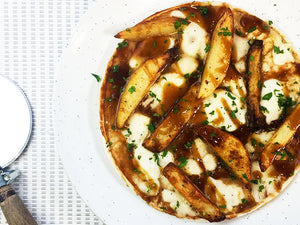 gluten-free
vegetarian
Poutine Pizza (Chips, Cheese and Gravy!!!)
Share
Facebook
Twitter
WhatsApp
Email
Serious Low-Calorie Comfort Food... You won't believe how indulgent this tastes - but just look at the macros...
No, no, we haven't gone über-northern on you! This is actually a Canadian favourite - Poutine. It is though, as the headline above says, chips, cheese and gravy on a pizza and it is exactly as delicious as it sounds. It probably wouldn't look out of place in a takeaway north of the Midlands either! 
To keep this as low-calorie as possible we recommend making slimming-friendly chips. They go lovely and crispy given time in the oven and additional spices and seasonings (we went with onion salt and a pinch of paprika) take them to another level. You will only actually use 80g of chips per pizza anyway so it's not actually excessively carb-heavy, thank's in the main to the Lo-Dough base. Also, try using a half-fat mozzarella ball - you won't miss out on flavour, given the additional seasonings and gravy and you'll still get plenty of melt and stretch action!
The chips are super simple to make. Cut your potatoes into 1cm thick lengths and boil in salted water for approx. 4 minutes. Drain and allow to dry for around 10 minutes. Spray generously with low-calorie spray-oil, add any seasonings you might want and bake in a tray at 220C for half an hour, turning occasionally.   
High-Fibre Lo-Dough
You wouldn't think that chips, cheese and gravy on a pizza could have additional health benefits, but you'd be wrong! By using Lo-Dough as a base, you get a massive 10.3g of fibre from this one, simple meal. At the same time, you drastically reduce the carbs and calories usually found in white starches and even wholemeal foods. 
If you're looking to give yourself a hug in a meal sometime this week, you could do a lot worse than this. 
Try some of the following comfort classics re-invented using Lo-Dough:
Cheese & Herb Dumplings (With A Stew)
Ingredients
Serves 1
1 piece of Lo-Dough, pre-browned
80g of slimming chips (method in description)
50-60g of gravy
70g half fat mozzarella, sliced or pulled into pieces
A twist of black pepper
What you'll need
This diet-friendly recipe is possible with:

Original Lo-Dough Bases
Regular price
from £3.49
Out of stock
Method
Preheat your oven to 250°C/475F/Gas 9.
Spread most of the gravy (save some for a final drizzle) across the Lo-Dough in a thin layer, right up to the edge.
Put pieces of the cheese on top of the gravy and then add the chips, spreading around reasonably evenly.
Put the pizza in the oven for around 7 minutes or until golden and bubbling.
Serve with extra gravy, finely chopped herbs and a crack of black pepper on top.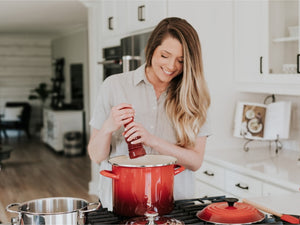 Hungry for more recipes?
Join over 200,000 subscribers in receiving new recipes, tips, offers and a whole lot more.