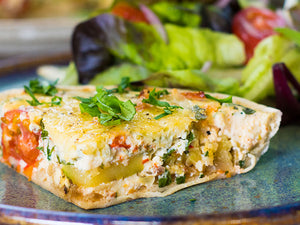 gluten-free
vegetarian
Low Calorie Mediterranean Veggie Quiche
Share
Facebook
Twitter
WhatsApp
Email
Low-Calorie Veggie Quiche Using Lo-Dough As A Pastry Replacement
Using Lo-Dough as the base for a quiche has become a favourite here at Lo-Dough Towers - possibly now on a par with our famously low-calorie and low-carb pizzas. It should definitely be a recipe in your healthy recipe armoury too.
Though taking a little longer to cook, they are just as easy to put together and because of all the filling, one Lo-Dough can give you up to four portions depending on how hungry you are feeling. They are great cold too and so can be taken to work or out for a picnic, no problem. 
What is Lo-Dough?
Lo-Dough is a practically carb-free bread and pastry replacement that makes a perfect alternative base for a quiche, slashing the calories and carbs usually found in pastry. Even other alternatives don't cut it next to Lo-Dough - a regular flour tortilla is approx. 160 calories and 27g carbs. Lo-Dough clocks in at just 39 calories and 2.2g of carbohydrate - a massive saving. 
Low-Calorie, Low-Carb Mediterranean Food
This quiche is inspired by the flavours of the Mediterranean - Sun-dried tomatoes, roasted red pepper, griddled courgette, olives and basil all feature, encased in their egg mixture and topped with cheese. You don't need us to tell you how beautiful this one is going to taste - it's sunshine on a plate. 
Get a 7-inch quiche tin at the ready and follow our simple method - this beauty could be all yours today. 
Top Tip: To avoid a soft base, make sure to cool the quiche on a rack - if a hot quiche sits on a flat board or plate, the base will sweat a little and soften. If for any reason it does soften, you can place the quiche in a hot, dry pan for 15-30 seconds to crisp up again. 
More low-calorie quiche inspiration? Have a look at these recipes:
Ingredients
Serves 4
1 piece of Lo-Dough
Half a red pepper, roasted, skin removed, chopped
50g of courgette, sliced and griddled (or roasted)
50g of sun-dried tomatoes, sliced
A couple of cherry tomatos, halved
5-6 olives, sliced
A small sprinkle (approx. 20g) of cheddar cheese
150ml of half-fat crème fraiche
3 eggs
A small handful of parsley and basil, finely chopped
Salt & pepper
What you'll need
This diet-friendly recipe is possible with:

Original Lo-Dough Bases
Regular price
from £3.49
Out of stock
Method
Preheat the oven to 160C/325F/Gas 3.
Push the Lo-Dough into tin, taking care to push it into the corners and create an upright edge.
Arrange the chopped vegetables around the Lo-Dough quiche base.
Whisk the 3 eggs and half-fat creme crème in a bowl with the herbs, season to taste with salt and pepper and carefully pour over the vegetables. Top with a sprinkling of the cheese.
Bake in the oven for 30-35 minutes. Take out and allow to cool on a rack for at least 10 mins. Enjoy warm or cold!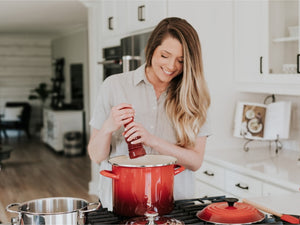 Hungry for more recipes?
Join over 200,000 subscribers in receiving new recipes, tips, offers and a whole lot more.